Gearboxes provide torque from 25-5,200 Nm.
Press Release Summary: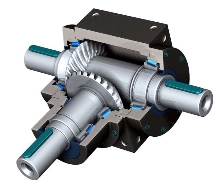 Lubricated for life, PowerGear Gearboxes are available in 8 sizes, with 6 standard ratios from 1:1-5:1 and efficiencies to 98%. Units feature taper roller bearings, Gleason cut gears, and spheroidal graphite iron housing and flanges. They provide fretting-free torque transfer using friction-locked fit between shaft and gear. Units come with solid or hollow shafts in 2-way, 3-way, and 4-way shaft arrangements, and can be mounted from all sides.
---
Original Press Release:

PowerGear - Power Without the Price


The New PowerGear range of products have been produced following the increasing technical demands from our customers, which has lead to the merging of the old Universal and Power Gear ranges, the main technical features of the two older ranges have been taken into account when producing the New range which replaces them.

The New PowerGear series has been produced to meet with a specific torque / speed spectrum. The advantages of this approach are:
o The compact and rigid design assures highest performance at small dimensions and low weight
o Lubricated for life, the gearboxes are, depending on their size, maintenance-free, if operated under normal conditions
o The high efficiency of the gearbox, 98%, saves energy costs
o Housing/Flanges made of spheroidal graphite iron for maximum rigidity
o Fretting-free torque transfer using a friction-locked fit between shaft and gear
o High quality taper roller bearings taking axial and radial loads and guaranteeing long operational life
o Gleason cut gears for high torque ratings
o Optimized gear tooth contact pattern during assembly leading to uniform load distribution

The units are available in 8 sizes, with 6 standard ratios from 1:1 to 5:1. Shaft arrangements include 2 way, 3 way and 4 way and are available with solid shafts and hollow output shafts, the units are also available with motor input flanges allowing many standard IEC framed motors to be fitted. Torque range from 25Nm to 5200Nm with input speeds up to 6500rpm.

The units have been designed, with universal mounting, allowing the units to be mounted from all sides.

Additional accessories include

Shrink Disc - with hollow shaft extension for friction locked connections Keyless Shafts - for attachment via clamping connections Minimum Backlash - for greater accuracy than already offered as standard Cooling packs - gearboxes fitted with aluminium cooling fins, with or without the addition of an axial fan to provide increased heat dissipation from the unit.

The main advantages of the PowerGear design will be found in applications with requirements of high torque at medium to high speeds, robust unit in a small size, useable in any mounting / working position.

Typical applications for the PowerGear are angular torque transfer and torque distribution in single, or multiple shaft configuration. In non-stationary applications where weight is extremely important, the PowerGear design is the ideal solution. For applications requiring a 1:1 ratio unit capable of handling greater torque than the standard PowerGear a higher rated X range is available utilising the same size cases.

More from Material Handling & Storage