Gearboxes are designed to deliver quiet, smooth operation.
Press Release Summary: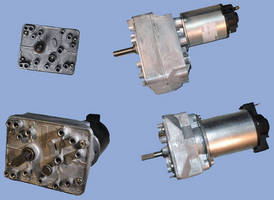 Supplied in heavy-duty metal housing, GDR1 and GDR2 Series offer gear ratios from 25:1 to 650:1, continuous torques up to 6 Nm, and speeds from 4-100 rpm. Frame footprint is 3.21 x 2.52 in., with respective thickness of 2.56 or 1.38 in. for GDR2 and GDR1. Both RoHS-compliant series serve medical, commercial, and industrial automation applications requiring smooth performance and continuous duty capability. Holes and plates promote mounting flexibility and adaptability.
---
Original Press Release:

Crouzet Introduces Second Generation Gearboxes



Featuring Quiet Operation, Easy Adaptability and Increased Torque Range

VISTA, Calif., - Crouzet North America, a company of Custom Sensors & Technologies, has introduced the new GDR1 and GDR2 Gearbox Series featuring quiet operation, versatile mounting and high torque. The new gearbox line is suitable for a variety of medical, commercial and industrial automation applications where smooth performance and continuous duty capability are required.

The GDR1 and GDR2 Gearboxes feature gear ratios from 25:1 up to 650:1, continuous torques up to 6 Nm, and speeds ranging from 4 to 100 rpm. Heavy-duty metal housing provides optimum durability and robust operation. Frame sizes measure 64.1 mm (2.52") wide x 81.6 mm (3.21") long, with thicknesses of 65mm (2.56") for the GDR2 and 35mm (1.38") for the GDR1. The new series is designed with several mounting holes and additional mounting plates for easy adaptability and mounting.

The new gearboxes interface with Crouzet's comprehensive line of highly engineered and highly tooled DC brush, DC Brushless and AC Asynchronous motors. DC Brush motors are available with 12, 24 and 48-96 volt windings while DC Brushless motors feature 9-56 volt windings. AC Asynchronous motors are available in up to 40 watts with winding options from 24, 115 and 220 volts at 50 or 60 Hz. Crouzet's Custom Adaptation Center can customize products to meet specific application requirements, such as adding custom shafts or connectors.

Gearboxes can be supplied with flying leads, cables and connectors to suit individual requirements and are RoHS compliant. DC motors can also be supplied with encoders and EMI filters.

"Crouzet's new GDR1 and GDR2 provide an excellent value for a midrange gear motor," says Jim McNamara, Crouzet Application Engineer. "Customers are finding that the new gearboxes provide a quieter and smoother performance than others on the market," he adds. "With this product addition, Crouzet has increased our spur gear box torque range by 20%."

Crouzet's new GDR1 and GDR2 Gearboxes are available in production quantities from $70.00 each. Delivery is eight weeks.

For more information, contact Crouzet North America, 2470 Coral Street, Bldg. D, Vista, Calif., 92081-8430; Tel: (760) 597-6322; Fax (760) 597-6320; E-mail: mcnamaj@us.crouzet.com, or visit www.crouzet.com

About Crouzet North America:
Crouzet North America is an operation of Custom Sensors & Technologies (CST). Crouzet (pronounced cruise-A) started operations in the US in 1978. A global company of about $180 M, Crouzet is headquartered in France, with about 2000 workers in more than 14 countries. The Crouzet motor activity is composed of sub-fractional HP AC, DC, BLDC, and Stepper motors with global sales of $55 M, with a worldwide sales team and adaptation centers to support special OEM applications. www.crouzet.com

About Custom Sensors & Technologies:
Custom Sensors & Technologies (CST) is a specialist in sensing, control and motion products. Through its brands, BEI Kimco, BEI Sensors, BEI PSSC, Crouzet, Crydom, Kavlico, Newall and Systron Donner, CST offers customizable, reliable and efficient components for mission-critical systems in Industrial, Aerospace & Defense, and Transportation markets.

Focused on premium value offers and committed to excellence, CST, with more than 4,000 employees worldwide and sales of $530M US in 2009, is the dependable and adaptable partner for the most demanding customers. www.cstsensors.com

More from Electrical Equipment & Systems