Gearbox offers maximum output torque of 796,500 lb-in.
Press Release Summary: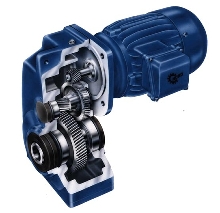 Clincher(TM) Parallel Shaft-Mount Gearbox SK 12382 triple-stage geared motor is available with either solid or hollow output shaft. Construction features include UNICASE(TM) one-piece housing, gearing designed to AGMA CLASS 13 standards, Quadrilip(TM) oil sealing system, and autovent sealing. Operational efficiency is rated at 98.5%. Power ranges from 15 to 200 hp, output speeds vary from 8.7 to 62 rpm, and gear ratios range from 69:1 to 202:1.
---
Original Press Release:
NORD Gear's NEW Triple-Stage SK 12382 Clincher(TM) Gearbox Offers 796,500 lb-in. of Output Torque
Waunakee, WI - NORD Gear Corporation introduces the SK 12382, a NEW LARGER SIZE of Clincher(TM) Parallel Shaft-Mount Gearbox that provides a maximum output torque of 796,500 lb-in. SK 12382 offers the exceptional performance of NORD Clincher(TM) products, while offering the significant output torque increase. This increase in allowable output is due to reinforced construction, higher-grade materials, and power condensation. The SK 12382's outer housing dimensions are identical to the current model SK 11382. Clincher(TM) Parallel Shaft-Mount Gearbox SK 12382 is a triple-stage geared motor that is available with either a solid or - hollow output shaft. Mounting flexibility is achieved through optional accessories that enable the units to be foot mounted. SK 12382 operates at up to 98.5% efficiency and offers a torque up to 796,500 lb-in. Power ranges from 15 to 200 HP; output speeds from 8.7 to 62 rpm; and gear ratios range from 69:1 to 202:1. Clincher(TM) SK 12382 incorporates all the standard NORD design and construction advantages including: - A UNICASE(TM) one-piece housing that prolongs both gear and bearing life, - Low noise, low maintenance, high durability gearing designed up to AGMA CLASS 13 standards, - A Quadrilip(TM) oil sealing system that prevents leaking and protects from external damage, - Autovent sealing that keeps oil cleaner and extends lubrication life, - A standard NORD protective finish that offers 40% greater impact resistance. For more information about NORD Gear's Clincher(TM) Parallel Shaft-Mount Gearbox SK 12382, please contact: NORD Gear Corporation 800 NORD Drive, P.O. Box 367 Waunakee, WI 53597 (888) 314-6673 or (608) 849-7300 Fax (800) 373-6673 www.nord.com
Related