Gear/Thread Grinder produces helical/spur gears.
Press Release Summary: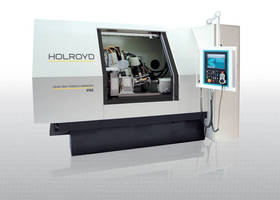 Holroyd Gear and Thread Grinder, model GTG2, offers precision grinding of helical/spur gears in diameters up to 350 mm. System enables users to grind small batches of gears to DIN and AGMA quality standards. On-board intelligence includes 3D scanning as well as stress prediction software which allows machine to optimize gear design. Machine can also produce master gears, precision prototyping, and timing gears for use in aerospace applications.
---
Original Press Release:

Combined Technology Used to Create the Latest Gear and Thread Grinder



The new Holroyd Gear & Thread Grinder (GTG2) is now available for super precision grinding of helical/spur gears in diameters up to 350mm. The latest machine meets the market need for ever increasing accuracy of small volume, high precision gears in aerospace and high performance automotive applications such as F1, industrial optics and custom designed industrial products.

Tony Bannan, Chief Operating Officer for Precision Technologies Group, the parent company of Holroyd and Jones & Shipman commented, "The new machine draws on the technology and expertise gained by Jones & Shipman in designing and manufacturing precision creepfeed, surface and cylindrical grinding machines, and combines it with the specialist helical tooth and thread profile grinding expertise of Holroyd. The new machine is a relatively low volume machine that provides high accuracy with fantastic flexibility and very short set-up times thanks to a lot of on-board technology making it ideal for aerospace and specialist automotive applications".

Using the advanced capabilities of the new machine, customers can economically grind small batches of helical/spur gears to high levels of DIN & AGMA quality standards. This sort of performance is also ideal for providing items such as master gears, precision prototyping, timing gears for use in aerospace applications and helical gears for use in high performance automotive gearboxes and oil pumps.

Originally developed in collaboration with the respected Gear Design Unit at Newcastle University, the Award winning machine, which is designed, produced and marketed in the UK, carries several lifetimes of gear profile and grinding knowledge in the onboard software, making amazingly complex forms and advanced profile results from relatively simple operator controls.

A good example of the on-board intelligence is solving one of the major problems in helical gear manufacture; that of predicting actual stresses. This is important because the more pressure on the gear teeth, the more risk there is of pitting (macro or micro) and eventual gear failure. This problem is addressed with unique stress prediction software, which was developed by Holroyd engineers, and enables the machine to optimise gear design, with profile and lead modifications to achieve the optimum contact conditions for low noise and high strength.

Summing-up the benefits of the new machine, "with precision 3D scanning, stress prediction and many other features, the technology onboard this machine is ahead of anything else on the market for high precision gear grinding, we ourselves have also used these machines to manufacture bespoke worm and helical gears, which has assisted in the development of such a machine, which coupled with feedback from research institutes and customers we continue to develop our ongoing database of manufacturing experience, and provide solutions to challenges faced by users of the machine tools worldwide."

For reader enquiries contact: Robin Bodicoat, Marketing Coordinator, Precision Technologies Group, Murrayfield Road, Leicester LE3 1UW. UK. Tel: +44 116 201 3105. E-mail: robin.bodicoat@jonesshipman.com

More from Controls & Controllers