Gear Reducer suits endless positioning applications.
Press Release Summary: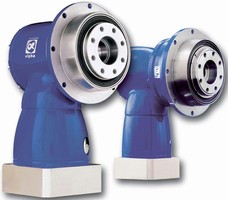 Two-stage right-angle gearhead, TPK+, is equipped with alpha TP+ planetary gearhead on output side and features helical-toothed planetary gearhead stage mounted at TPK+ output. Hypoid gearset at input (up to i=10 in single stage) enables product to take place of 3-stage bevel-planetary gearhead. Offered with range of reduction ratios, gearhead offers smooth, vibration-free running with torsional and tilting stiffness that lend to precision of dynamic processes.
---
Original Press Release:

Alpha's TPK+ Dual Technology Gear Reducer



TPK+ is a two-stage right-angle gearhead for servo applications featuring a robot flange according to ISO 9409 (without a pin). It is equipped on the output side with the alpha TP+ planetary gearhead introduced just last year. The focus of TPK+ is on power density, notably in the torque, the torsional stiffness and the torsional backlash.

This double technology advantage is the sum of the following components:

· An extremely precise, helical-toothed planetary gearhead stage is mounted at the TPK+ output. Optimized helical gearing not only assures the high power density, positioning accuracy and stiffness typical of planetary gearheads but also facilitates exceptionally smooth running.

· Thanks to the hypoid gearset at the input (up to i=10 in a single stage), there are now many applications in which a two-stage gearhead can take the place of a three-stage bevel-planetary gearhead. Once again, unprecedented smooth running is guaranteed by the innovative hypoid teeth. Added to this, TPK+ offers high continuous speeds and up to 200% more torque than bevel gearheads.

Like the other right-angle gearheads in the alpha family, TPK+ is integrated in cymex®, our unique sizing software application. cymex® allows an almost infinite number of drive solutions with different geometries, powers, moments of inertia, etc. to be identified with a few simple mouse clicks. In addition to the gearhead selection process, cymex® also optimizes the other drive train components, including the motor and the machine elements at the gearhead output. The cymex® "motor library" currently has the largest database of motor manufacturers in the world!

The benefits of TPK+ at a glance:

· Smaller sizes owing to the powerful planetary stage.

· Improved end product quality.

· Only a third of the weight of servo worm gearheads with similar torque.

· Design work is simplified, e.g. TPK+ can replace cam mechanisms or combinations of several gearhead stages/timing belts. The low torsional backlash of the integrated TP+ planetary stage plays a crucial role in making this possible.

· Better value for money (compared to bevel-planetary gearheads) with a wide range of reduction ratios because only two gearhead stages are needed instead of three.

· The superior torsional and tilting stiffness is reflected in the increased precision of dynamic processes and the resulting higher productivity.

· Smooth running means higher travel speeds free from irritating vibrations.

· As a full service supplier, alpha is excellently placed to identify new and better drive solutions: TPK+ can optionally be supplied with alpha's rack-and-pinion system.

· With its high torsional stiffness, rugged design and optional binary reduction ratios, TPK+ offers unrivalled advantages for "endless positioning" applications.

CONTACT:
Miriam Bilstein
alpha gear drives, Inc.
Ph: (630) 540 5300
Fax: (630) 540 9015
mbilstein@alphagear.com
www.alphagear.com

More from Cleaning Products & Equipment