Gear Pump/Screen Changer Support Cart aids deployment, maintenance.
Press Release Summary: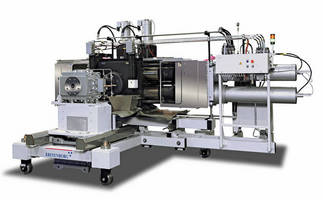 Single movable cart, combining screen changer and gear pump, simplifies deployment of said components in extrusion line while minimizing floor space occupancy and facilitating access for replacement of filter media. While fixed casters permit transverse-direction movement into and out of extrusion line, precisely aligned movement in extrusion direction is provided by rails installed on floor. Linear guides on cart permit independent extrusion-direction movement of gear pump/screen changer.
---
Original Press Release:

Compact Single Support Cart for Gear Pump and Screen Changer From Nordson Kreyenborg Speeds Deployment and Maintenance



MÜNSTER, GERMANY: A concept that combines screen changer and gear pump on a single movable cart simplifies deployment of these components in an extrusion line, takes up less floor space than separately mounted machines, and provides easy access for replacement of filter media, it was announced today by Nordson KREYENBORG GmbH.



Developed at the request of one customer, the concept of a single support cart can be applied for equipment custom designed by Nordson KREYENBORG for other companies, including extrusion processors, compounders, and recyclers, replacing the standard configuration involving separate carts for screen changer and gear pump.



The single cart is mounted on fixed casters that permit transverse-direction movement into and out of the extrusion line, while precisely aligned movement in the extrusion direction is provided by rails installed on the floor. At the same time, linear guides on the cart permit independent extrusion-direction movement of the gear pump and screen changer. To save space and facilitate access for changing screens, Nordson KREYENBORG has in effect turned the gear pump onto its side so that its drive can be mounted below the pump.



"Nordson KREYENBORG's use of a common cart for gear pump and screen changer simplifies deployment of these components in the extrusion line and permits faster and easier maintenance," said Mr. Markus Walbersmann, research and applications engineer. "The gear pump in this system incorporates the same features as our traditionally configured equipment, including a cooling system that enhances the effectiveness of the thread shaft seal, which is particularly important for low-viscosity materials."



The rate of coolant flow is adjustable, and the coolant may be either air or de-mineralized water. Customers are asked to specify the coolant in advance so that Nordson KREYENBORG can design the gear pump for optimal performance. If the material to be processed is shear-sensitive, Nordson KREYENBORG recommends its Type 03 gear pump to minimize residence time.



Photo Caption: Compact single-cart configuration designed for a recycler of PET includes Nordson KREYENBORG's Type GPE 140/140-03 gear pump and Type K-SWE-280-4K-75-V/RS screen changer, plus the requisite adapter. Gear pump accommodates throughput of 4,000 kg (8,800 lb) per hour. Screen changer has a filtration fineness of 40 microns (0.0016 in.).



Founded in 1953, the Kreyenborg Group is a leading international supplier of polymer processing systems. In 2013, Nordson Corporation acquired the KREYENBORG GmbH business, which manufactures melt filtration systems, gear pumps, and melt valves; and BKG BRUCKMANN & KREYENBORG GRANULIERTECHNIK GmbH, which produces underwater pelletizing systems.Both are now part of Nordson's Polymer Processing Systems product offering. Visit www.kreyenborg.com.



Nordson Corporation (Nasdaq: NDSN) engineers, manufactures and markets differentiated products and systems used for the precision dispensing and processing of adhesives, coatings, polymers and plastics, sealants, biomaterials and other materials and for fluid management, test and inspection, UV curing and plasma surface treatment, all supported by application expertise and direct global sales and service. Nordson serves a wide variety of consumer non-durable, durable and technology end markets including packaging, nonwovens, electronics, medical, appliances, energy, transportation, construction, and general product assembly and finishing. Founded in 1954 and headquartered in Westlake, Ohio, the company has operations and support offices in more than 30 countries. Visit Nordson on the web at www.nordson.com, www.twitter.com/Nordson_Corp or www.facebook.com/nordson.



Robert J. Martino

Martino Communications Inc.

8 Main Street / P.O. Box 379

Hastings-on-Hudson, NY 10706 U.S.A.

Tel: 1-914-478-0754

Email: bob@martinocommunications.com

www.martinocommunications.com



www.twitter.com/MartinoComms

More from Cleaning Products & Equipment