Gear Grinder rough and finish grinds gears in one setup.
Press Release Summary: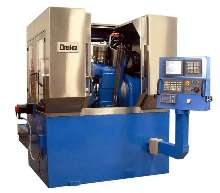 Built on mineral-filled cast polymer base, 6-axis GS:G2 produces gears from 1-12 in. dia, employs near net-shaped or hobbed gears, and requires 15 min of setup. Machine requires users to install proper tooling and enter part form, dress, and grind parameters into control in order to start-up new jobs, while menu-driven screens and Gear Smart(TM) Programming facilitate operation. Product features dual wheel machining and infinitely variable wheel speeds and feeds.
---
Original Press Release:

New Drake Gear Grinder Rough and Finish Grinds Gears In One Setup


Sometimes a new machine is just destined to happen. Markets evolve, new technologies emerge, and an experienced machine tool builder seizes the opportunity. The result: the right machine, at the right time, at the right price.

Drake Manufacturing in Warren, OH is putting the finishing touches on a highly productive 6-axis gear grinder that will be grinding quality parts after just 15-minutes of setup. Best part is - like Drake's other gear and thread manufacturing machines - it's priced to provide high return on investment for the job shop owner as well as the large, automotive supplier.

Drake is best known for its line of CNC gear hobbers, thread and worm grinders, rack mills and bore grinders. The GS:G2 is a machine that blends the best of Drake's specialty grinding and gear making expertise.

As the basis of competition in the power transmission and speed reducer markets increasingly shifts toward quiet operation and efficiency, more and more manufacturers are calling for precision ground gears. The Drake GS:G2 enables manufacturers to source near net-shaped or hobbed gears from low-cost suppliers and still control the final product quality. "This is a high value-added grinder, that with minimal capital outlay, can help our customers remain globally competitive for years to come," said Stig Mowatt-Larssen, Drake's Manager of Research and Development.

A flexible grinder

The GS:G2 has the flexibility and capability to handle a variety of grinding roles: job shop work, manufacturing cell environments, high volume grinding - even prototype work. Fast changeovers with menu-driven setup screens-no more change gears or dressing thread wheels-make it easy to switch from job to job.

Ideal customers for the Drake GS:G2 are manufacturers and suppliers of industrial, off-highway and heavy equipment power transmissions, speed reducers, and gearboxes. Actually, anyone who is producing gears and has wanted ground gears but thought an affordable gear grinder was unobtainable is a potential customer. Drake Manufacturing Services made CNC thread grinders affordable 20 years ago and is now working to do the same in gear grinding. "We want to take the mystery out of gear grinding and make that technology widely available and less intimidating," said Michael Hughes, Systems Engineer at Drake.

Quick changeovers

The key to this grinder's productivity is fast setups. A new part can be running in 15-minutes or less. Wheel changes require an additional 15-minutes of setup. There are no change gears to install or complicated wheel dressing routines. All the operator does is install the proper tooling, enter the new part's form, dress, and grind parameters into the menu driven control and go-that's all it takes to start up a new job.

Gear job shops will appreciate the rapid changeovers from one form to another. One job shop evaluating the new grinder is analyzing the possibility of eliminating its stock of special hobs.

Those medium volume manufacturers that operate in lean, make-to-order manufacturing cell environments with families of gears to manufacture will love this machine. The G2 will make it economic for them to provide their customers with assemblies that are quiet and have the efficiency that ground gears can provide in gearboxes, transmissions, and reducers.

Gear Smart(TM) Programming

Drake makes all of its machine tools very easy for the customer to operate. "Our customers do not want machine tools, they want quality parts out their door," said Jim Vosmik, Drake president. "Our menus give an operator the tools needed to make good parts. Manufacturers want their people making parts-not fighting some arcane machine control language," he added. Drake machines provide menu entries for the machine operator to define the part, tooth form, and dress and grind process. This GearSmart(TM) programming guarantees "good parts out your door from day one."

All Drake machines are designed and programmed for the customer's specific manufacturing environment. Dressing forms, grind paths, spindle and work RPM are all pre-calculated and stored in the control's memory. "In developing the menu entries, our systems engineers use the customer's terminology. Drake makes it easy for the operators to enter the needed parameters into the CNC-right off their setup sheet or part print. Skilled machinists are hard to find. The machine has to be simple to set up and operate," said Rick Sanders, Manager of Systems Engineering at Drake.

To setup and run a given part, the operator is only required to enter specific part and process information (number of teeth, face width, blank O.D., diametrical pitch etc.) for the part - prompted by menu-driven screens.

The GearSmart(TM) grinding and dressing menu provides entries for infinitely variable wheel speeds and feeds, for rough and finish grinding, and for full control of wheel dressing and truing. With the Drake Smart Spindle(TM) option, through acoustical emissions monitoring, expensive superabrasive wheels can be precisely trued and dressed at the micron level. Effects of thermal movement do not result in wasted abrasives or poorly conditioned wheels. Additional menu entries are available to suit specific customer applications.

No programming knowledge is required on the shop floor. GearSmart(TM) programming lets shops hire machine operators instead of seeking increasingly hard-to-find journeymen machinists.

Dual Wheel Capability

On the GS:G2, the first wheel can be used for quick removal of preformed rough stock or even to grind from a solid blank. A robust spindle and 20 hp Fanuc spindle motor allows heavy roughing cuts. The second wheel would then be used for final tooth profile grinding and surface finish. This two-in-one productive capability reduces the need to carry an expensive hobbing tool inventory, and can eliminate special hobs entirely.

Technology highlights

Drake equips the GS:G2 with the latest Fanuc CNC controls and servos giving it world class positioning and grinding accuracy. The cast polymer base, wheel head, work table and work slide components provide a very stiff grinding platform to take advantage of today's state of the art superabrasive grinding wheels. The machine will easily produce gears that exceed AGMA 12 specs - productively and cost effectively - from 1" to 12" diameter.

Cast polymer base

Grinding accuracy begins with a machine's base components. The G2 uses a mineral filled cast polymer base to dampen vibration and minimize thermal conductivity. The polymer base material provides machine stability that results in better grinding accuracy.

Precise work rotation and angular positioning

A Fanuc heavy-duty, enclosed synchronous torque motor that provides for very smooth rotation and backlash free position holding drives the worktable (C-axis). When combined with 8 million-count encoder feedback, the torque motor C-axis provides tooth-to-tooth index positioning resolution of less than .2 arc seconds (.000,045°). In this direct drive system, there is no coupling sloppiness, backlash or windup that can introduce positioning errors. Profile grinding of spur gears with exact tooth-to-tooth index is achievable with this technology. Of course, helical gears-up to 45° helix angle-are no problem either.

Accurate C-axis spindle positioning combined with Drake's SmartSpindle(TM) acoustical emissions monitoring feature, allows fully automated gear tooth location and stock division for finding precut parts without operator intervention or dogging. SmartSpindle(TM) is Drake's acoustic emission technology that detects the sound of the grinding wheel touching the part - to an accuracy of one micron. The wheel touches one side of the gear tooth then the other, and centers itself before grinding an equal amount of stock from both sides. Touch dressing and automatic wheel balancing is also included on all Drake grinders equipped with the SmartSpindle(TM) feature.

Linear Axis Positioning

The linear axes move on preloaded recirculating roller linear ways for high stiffness, long life, and ease of repair. Precision ground preloaded ball screws provide accurate positioning. The latest Fanuc AC servomotors with high-count encoders and .000,004" resolution linear scale feedback drive the contouring axes. While using the best available components is an absolute necessity, Drake's ISO9000:2000 registered quality system assures that all components are installed and aligned such that the dynamic accuracy of its machines are second to none on delivery day as well as after years of multiple shift operations.

SmartForm(TM) CNC diamond roll dressing.

The GS:G2 is equipped with Drake's SmartForm(TM) 2-axis CNC contour diamond roll dresser that utilizes 115 mm diameter rolls for wheel profiling and conditioning.

Wheel forms are generated by simultaneous CNC contouring of X and W-axes or by plunging with the X-axis when using a profile (form) roll. A precision diamond roll is used to create the exact gear tooth profile on the abrasive wheel, using a continuous path movement and holding tolerances in the tens of millionths throughout the life of the wheel. Automatic dressing assures that the wheel is properly shaped and sharpened at all times. Frequency of dressing depends on such factors as the surface finish needed, wheel type and stock removal rate.

Dressing software allows for involute profile modifications for proto-types or custom gear teeth. Both left and right tooth flanks can be modified independently. Drake has applied the experience it has developed in over twenty years of CNC contour dressing on its worm and thread grinders to the dresser of the G2. "We know how to CNC contour dress a complex form in a grinding wheel over and over again," said Mike Hughes, Systems Engineer.

Drake had expected to show off the machine at IMTS, but not surprisingly the machine has been sold. However, the company will have a video presentation on the GS:G2 at its booth # B-7407.

What will be on display at IMTS

What visitors will see at Drake's booth is its new Linear Motor Thread Grinder. This grinder, built on a cast polymer base, will be equipped with a host of Drake's advanced machine design, productivity options and grinding technologies. The linear motors eliminate ballscrews, couplings, backlash, and other sources of reduced accuracy, lead error, and drunkenness. On the positive side, linear motor drives provide for rapid acceleration and motion needed for thread relieving, crowning, and other profiling moves.

Drake wants customers to be able to grind a wide range of threaded, slotted, or otherwise grooved parts on one machine. The machine will be able to grind threads, splines, key slots, rings and other forms in one setup using the latest superabrasives with confidence.

"We want to show manufacturers globally what intelligent machine design, coupled with a scientific approach to grinding can do to reduce setup times, improve part quality, and maximize productivity, " said John Drake, CEO. "Of course, as a Drake grinder, it will be delivered fully programmed and ready to put customer parts out the door from day one."

"The new thread grinder will be of great interest to customers producing steering components, multi-start worms, fast lead ball screws, taps, feed and bone screws, gear boxes, transmissions and speed reducers," he adds.

For more information, contact:

Drake Manufacturing
4371 North Leavitt Road
Warren, OH 44485
Phone: 330-847-7291
Fax: 330-847-6323

More from Agricultural & Farming Products