Gear Grinder eliminates undulated form errors.
Press Release Summary: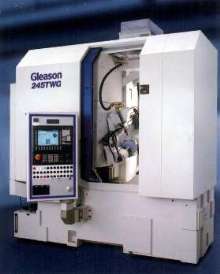 Gleason® 245TWG Threaded Wheel Grinder maintains critical size requirements on consistent basis, but also enables hard finishing using metal removal rates. Thermal compensation via sensors throughout process ensures accuracy and part-to-part consistency. Direct-drive grinding spindle offers speeds in excess of 60 m/sec. In addition to savage grinding, machine can grind gear segments, gears with intermittent teeth, and pump gears having low numbers of teeth.
---
Original Press Release:
Niagara Gear Adds First-of-its-Kind Gleason® 245TWG Gear Grinder to Line of Precision Gear Grinding Equipment

Niagara Gear, an established, world class manufacturer of precision ground spur, helical and pump gears, has recently enhanced its production capabilities with the addition of the new Gleason® 245TWG High Speed Threaded Wheel Grinder, the very latest technology in precision, high production gear grinding. This first-of-its-kind machine enables Niagara Gear to deliver ground gear quality at shaved gear prices by eliminating process related deviations and subsequent heat treat distortion with an affordable hard finishing solution.

"Our growing customer base continues to demand faster, more economical finished gears of the highest quality," said Robert Barden, vice president and general manager of Niagara Gear. "By adding this state-of-the-art technology, Niagara Gear is underscoring our commitment to meet our customers' needs and exceed their expectations."

Niagara Gear's new Gleason 245TWG gear grinder can maintain critical size requirements on a consistent basis, but also enables affordable hard finishing using metal removal rates, which until now were unthinkable in the gear grinding industry. This new gear grinder also improves tooth profiles while eliminating undulated form errors and other undesirable excitations by utilizing only the latest available technology in direct drives.

Niagara Gear's Gleason equipment ensures the ultimate in accuracy by incorporating proven form-grinding methods and components into an exceptionally rigid, water-cooled base. Thermal compensation via sensors throughout the process further enhances accuracy as well as part-to-part consistency. Complementing this is a new, direct drive grinding spindle capable of speeds in excess of 60 meters/second. These features add up to provide grind times that surpass those of existing, conventional CNC grinding equipment by up to 30% for a significant savings on both cost and turnaround time.

The new Gleason 245TWG gear grinder complements Niagara Gear's other recent addition of the Reishauer® RZ300E precision gear grinder. Although this state-of-the-art equipment is known for its accuracy and short set-up times, it is also capable of grinding gear segments, gears with intermittent teeth, pump gears having low numbers of teeth, and is especially desirable for salvage grinding.

With over 30 years of experience, Niagara Gear has established and maintained a large and diverse global customer base. The company offers the flexibility to manufacture gears complete to print, perform finishing operations on customer blanks, or to grind teeth only. All ground gears are manufactured to meet MIL-I-45208, with full inspection and gage calibration based on MIL-STD-45662A. Niagara Gear has developed a comprehensive quality assurance program which includes purchased product control, process control, complete inspection and testing with control of all measuring and test equipment, preventative maintenance, statistical techniques (SPC) and continuous process improvement initiatives.

For more information contact Niagara Gear Corporation, 941 Military Road, Buffalo, NY 14217. (800) 447-2392. (716) 874-3131. Fax: (716) 874-9003. e-mail: info@niagaragear.com. www.niagaragear.com
More from Controls & Controllers