Gear Drives Offering Strain Wave Gearing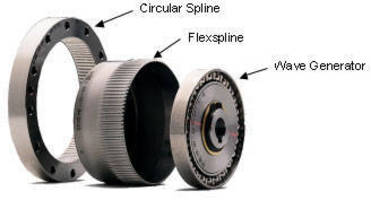 The World's Largest Manufacturer of Harmonic Drive Gearing allows Harmonic Drive, LLC. To offer the machine and motion control design engineers the widest choice of strain wave gearing products. A complete line and range of rotary servo actuators are available for AC and DC applications. These servo actuators are easy to use and offer quick implementation. They are compatible with most industry-standard controllers and amplifiers. Now updated-operating principles of strain wave gearing (aka Harmonic Drive gearing) that is elegant and unique. The high performance attributes of this gearing technogoly including zero backlash, high torque, compact size, and excellent positional accuracy are a direct result of the unique operating principles.

Now featuring the mechanism which is comprised of three components: Wave Generator, Flexspline, and Circular Spline.

The Wave Generator is actually an assembly of a bearing and a steel disk, which is called a Wave Generator plug. The Flexspline is a thin-walled steel cup. The Circular Spline is a rigid circular steel ring with teeth on the inside diameter. Harmonic Drive gearing is known for zero backlash, high torque, compact size, and excellent positional accuracy.

Our motion control products including servo actuators, gearheads, gearing components exhibit these attributes.

The FHA-C series AC servo actuators' compact shape and hollow-shaft construction enables possible downsizing of machinery/equipment and simplifies design. These rotary actuators feature: Thin and compact configuration, hollow-shaft construction, high torque, high rigidity, high accuracy and built-in high-rigidity support mechanism with the availability of a series of multifunctional control units. Applications include machine tools: tool changers, index tables, and loaders. Industrial robots for robot axis and turntables. Semiconductor manufacturing equipment for transport robots, inspection tables. Liquid crystal manufacturing equipment for transport robots, inspection tables, roll driving mechanisms. Printing machines for roll driving mechanisms.

Harmonic Drive also offers rotary actuators, mini-actuators, electromechanical actuators, planetary gears, gear boxes, harmonic gear drives and linear motion components. Featuring LA Series compact linear actuators, having high-resolution and high-thrust. This series have realized maximum thrust of force 49N, 0.0174 micrometers of resolution, and high precision. Harmonic Drive LLC is able to design custom actuators to suit our customers' unique requirements. Our facilities have design, manufacturing, and test capabilities to ensure our products meet the highest quality standards.

Multiple manufacturing facilities in the United States, Japan and Germany maintain the high-quality, precision and reliability standards required by the industry. Application engineers are available for technical consultation and customer service. Fully equipped facilities provide integration of components as well as prototype assembly. Contact us at; Harmonic Drive LLC, Tel: 978-532-1800, Fax: 978-532-9406, visit our website at www.harmonicdrive.net or email us at - info@harmonicdrive.net.

More from Mechanical Power Transmission