Gear and Bearing Puller moves up to 200 tons.
Press Release Summary: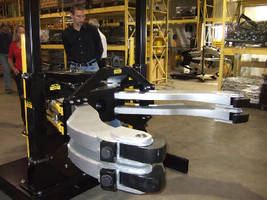 Constructed with Safety Cage® design, PH-200T 4-jaw, 200 ton puller features jaws with 50 in. reach and 8-52.5 in. spread range. Hydraulic-powered dual mast lift cart will extend from ground to 5 ft, and puller can be removed from cart and used in horizontal/vertical positions. Additional components include manually adjustable jaw tips and 2-stage electric pump with 10 ft remote jog switch.
---
Original Press Release:

PH-200T - 200 Ton Hydraulic Gear and Bearing Puller



Posi Lock's hydraulic line featuring the patented "Safety Cage® design" has yet again expanded to include a 4-jaw, 200 ton puller. The exclusive PH-200T jaws have a reach of 50" (1219 mm) and a spread range from 8" (203.2 mm) to 52.5" (1333.5 mm). The hydraulic-powered dual mast lift cart will extend from ground to 5' (1524 mm). The puller can be removed from the cart and can be used in either horizontal or vertical positions. Jaws are hydraulically guided by the safety cage and jaw tips can be manually adjusted for optimal contact with the pulling surface. Operator convenience and safety is further enhanced with a two-stage electric pump featuring a 10' remote jog switch.

Posi Lock Puller Inc. is the only company to manufacture hydraulic pullers from 5-200 tons.

Satisfied Enerpac customer Kevin Rundle, Falk Project Coordinator said; "We service huge gearboxes here, with motors up to 1500 kw and more. We have to achieve timely turnaround for vital equipment used by customers such as the nearby Hunter Valley mines and other East Coast mines, as well as meeting the needs of huge industrial processing and materials handling groups that can't afford extensive downtime. Precision, efficiency and safety are top priority with us."

All Posi Lock pullers efficiently solve problems associated with the removal of gears, bearings, wheels, pulleys, sleeves and other press fit items in diverse industries, resulting in substantial time and cost savings. By using the correct dismounting equipment, damage to the shaft and related components is greatly reduced, which in turn ensures that maintenance downtime is minimized.

For additional information, please contact:
Posi Lock Puller Inc.
PO Box 246
Cooperstown, ND 58425
Phone: 701 797-2600
Fax: 701 797-2706
E-mail: intlsales@posilock.com
Web: www.posilock.com

Related