GEA Barr-Rosin CERTEX(TM) ATEX Certified Explosion Vent Doors get noticed Worldwide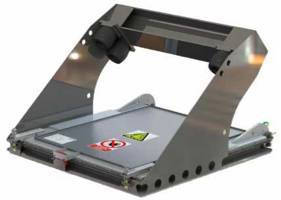 GEA Barr-Rosin's CERTEX™ ATEX Certified Explosion Vent Doors are quickly gaining a reputation for their robust, re-sealable, flush-fitting and self-insulated features getting them noticed by the agrifood processing industry worldwide for both new build and retro-fitting to existing systems. 



CERTEX™ doors (which are certified as a protective system under directive 94/9/EC and compliant with EN14797) are robust and therefore not liable to the process thermal cycling and pressure fluctuations that regularly cause standard venting panels to fail. This results in reliable dryer protection without the burdensome maintenance and replacement needs often found with standard venting panels. If activated the doors do not need replacing, as with standard vents, but can be reset using a relatively simple sacrificial tab.



GEA Barr-Rosin is the only company to provide ATEX-approved self-closing Explosion Venting Doors specifically designed for agrifood drying systems. In addition to the CERTEX™ vent doors, GEA Barr-Rosin can also offer an auditing service, which is essential when retro-fitting and upgrading existing installations. 



In recent landmark orders, the company has supplied several sets of CERTEX™ doors for new builds and for retro-fitting to existing systems in locations both within and outside the ATEX zone including Finland, Poland, Thailand, and Brazil.  "We are delighted that CERTEX™ has been so well received around the world," said Dominique Kuehner, Sales and Marketing Manager for GEA Barr-Rosin.  "Given the product's benefits we are sure the list will continue to grow."



All business enquiries to:

Dominique Kuehner

Sales and Marketing Manager

+44 1628 641700

Email: dominique.kuehner@gea.com

Web: www.gea.com





About GEA Barr-Rosin

GEA Barr-Rosin, a member of the Process Engineering Segment of GEA Group, is a leading supplier of industrial drying systems, offering numerous technologies to dry wet materials, ranging from granules, cakes, sludges, powders and slurries.  With thousands of references worldwide, GEA Barr-Rosin drives for excellence and maintains their leading position by continually focusing on product quality, system reliability, energy savings and emission control. For further information visit www.barr-rosin.com.



About GEA Group

GEA Group Aktiengesellschaft is one of the largest suppliers for the food processing industry and a wide range of other process industries. As an international technology group, the Company focuses on process technology and components for sophisticated production processes. In 2013, GEA generated consolidated revenues in excess of EUR 4.3 billion, more than 70 percent of which came from the food sector, which is a long-term growth industry. The group employed about 18,000 people worldwide as of December 31, 2013. GEA Group is a market and technology leader in its business areas. It is listed in Germany's MDAX stock index (G1A, WKN 660 200) and the STOXX® Europe 600 Index. Further information is available on the Internet at: www.gea.com.







More from Communication Systems & Equipment