GDS Named for 'Transportation - Excellence in Technology' at 2007 DIGI Awards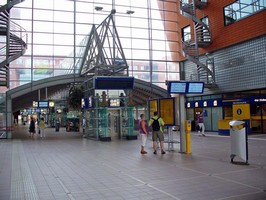 (July 13, 2007): Global Display Solutions (GDS) Ltd., market leader in the design and manufacture of industrial display solutions, announces that it been named a winner in the 2007 DIGI Awards, collecting the honour in the Transportation - Excellence in Technology category. GDS received the award for its contribution to Information Product Portfolio on Stations (IPPS) for Siemens Nederland N.V. The DIGI Awards are jointly presented by The Digital Signage Group and Digital Signage Quarterly magazine, and recognise a variety of digital signage uses throughout retail and non-retail applications.

The winning project involved GDS developing a customised display for multi-national company Siemens, for use in a European transportation project. In order to meet the specific requirements of this sizeable project, GDS developed a tailor-made display for the transportation industry. This new display is the first IP65-certified Large Screen LCD to use Advanced Optical Enhancement (AOE), making it unique in its field. The display is part of GDS's ground-breaking e-Signage range which encompasses a raft of product innovations, which can be customised to fit any project. The AOE process improves the daylight readability of the display as well as providing protection from vandalism, both essential features for transportation displays.

For the project 17", 32" and 45"/46" displays were supplied by GDS. The IP65 enclosure guarantees protection from dust and low-pressure water, ensuring low cost of ownership and low maintenance requirements. The displays also feature a built-in thermal management system and a single-board computer so that the displayed information can be easily updated.

Giovanni Cariolato, CEO at GDS, comments: "The prestigious DIGI Award is a great recognition for our work. GDS aims to be at the cutting-edge of technology, and we use this knowledge to develop tailor-made solutions for our customers."

Siemens works in a variety of business areas and provides a range of services including integrated transportation systems. Siemens selected GDS to design and manufacture the range of displays after being impressed by the size of GDS's operation, the company's manufacturing expertise and its experience in similar projects across Europe, the USA and the Far East.

GDS is a world-leading manufacturer of industrial display solutions for a number of industries worldwide including kiosks, retail, advertising, entertainment, banking, marine, process and transport. For further information on GDS please call +1 503 617 4715 in the USA, or +44 1274 230150 in Europe, or email us at sales@gds.com.

For further information on GDS Sferal WWT, please call +39 445 428991 in Europe, or email sales@gds.com.


More from Fasteners & Hardware