GbE Switches, Media Converter support high-bandwidth networks.
Press Release Summary: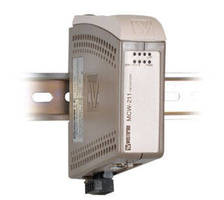 With one SFP fiber port and one copper port, MCW-211-F1G-T1G unmanaged industrial Ethernet media converter connects legacy serial devices to Gigabit Ethernet (GbE) networks. Unmanaged Ethernet switches SDW-541-F1G-T4G and SDW-550-T5G offer 5 copper or one fiber plus 4 copper ports. Units support 100 Mbps or Gigabit Ethernet, with SDW-550-T5G also supporting 10 Mbps communications. Distances of up to 120 km can be achieved using Westermo pluggable 100 Mbit or Gigabit SFP transceivers.
---
Original Press Release:

Westermo Gigabit Switches and Media Convertor Support Growing Need for Higher Bandwidth Networks



Reliable, ease to use industrial Ethernet devices suitable for heavy industrial, maritime and trackside applications



Westermo has launched three new Ethernet devices that support the growing need for higher bandwidth networks with industrial applications. Two new Gigabit switches and a media convertor offer outstanding reliability, robustness and ease of installation, making them suitable for heavy industrial, maritime and rail trackside data communication networks.



The MCW-211-F1G-T1G is an unmanaged industrial Ethernet media convertor with one SFP fibre port and one copper port that enables the connection of legacy serial devices to new Gigabit Ethernet networks. The SDW-541-F1G-T4G and SDW-550-T5G are unmanaged Ethernet switches that offer a choice of five copper or one fibre and four copper ports. The units support 100 Mbit/s or Gbit Ethernet, with the SDW-550-T5G also supporting 10 Mbit/s communications. Using Westermo's range of pluggable 100Mbit or Gbit SFP transceivers, different types of fibre can be easily converted and distances of up to 120km can be achieved.



The three devices are designed for demanding applications that require high levels of reliability. All three units feature tri-galvanic isolation, a unique solution that provides isolation between the ports, the shield connection and the power supply. This helps to avoid ground loop currents and increases reliability. By using only industrial grade components the units are robust and provide a long service life. The SDW-541-F1G-T4G has a mean-time-between-failure of over 1.1 million hours.



"There is a growing desire for higher bandwidth industrial networks that are extremely reliable," said Bo Jansson, Westermo product manager. "To support this Westermo has launched three Gigabit devices that are designed to be extremely reliable and offer extended service life, even when operating in the toughest environments. The products are also very simple to commission and operate."



To simplify installation the devices are compatible with all standard industrial Ethernet protocols. For legacy Ethernet equipment unable to support auto-negotiation, a DIP switch can lock data rate and flow control. Network diagnostics is simplified using the port mirroring functionality of the switches. This allows data flow through the switch to be monitored using a network analyser, enabling engineers to use it for fault diagnosis.



The units all meet the highest EMC, isolation, vibration and shock standards, and are certified for rail trackside and maritime applications. Their IP21 rating ensures that the units can be installed in locations where condensed water may occur. A power input range of between 10 and 57 VDC and an extended operating temperature range of -40 to +74 C enable the units to support a broad range of applications, even in extreme environments.



Products:

MCW-211-F1G-T1G

http://westermo.com/web/web_en_idc_com.nsf/AllDocuments/D9B8899B5C4A0C6DC1257F06002CA0AC



SDW-550-T5G

http://westermo.com/web/web_en_idc_com.nsf/AllDocuments/1E886998034758B0C1257F06003CE25F



SDW-541-F1G-T4G

http://westermo.com/web/web_en_idc_com.nsf/AllDocuments/97B8EB4678BAF824C1257F060034B072



Additional information:

Bo Jansson, Product Manager

Tel +46 16 42 80 15

E-mail bo.jansson@westermo.com



Press contact:

Ted Jelenic, Market Communications

Tel +46 (0)16 428019

E-mail: ted.jelenic@westermo.com



Westermo develops and manufactures data communications products for demanding applications in industries that include transport, water and energy markets. To ensure the highest quality, all Westermo products are manufactured in the company's own state of the art industrial electronics manufacturing facility in Sweden.

Westermo currently has a global sales in excess of 50 MEUR and 220 employees. The company is owned by Beijer Electronics AB, listed on the Stockholm Stock Exchange.

More from Agricultural & Farming Products