Gaylord Rotator Box comes with adjustable side rail guards.
Press Release Summary: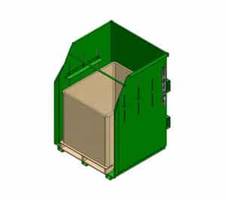 Designed to hold large cardboard recycling boxes, Gaylord Rotator Box comes with load capacity of 6,000 lbs. Equipped with upper brace bar, unit features adaptable arms, flared and reinforced opening. Compatible with forklift, product can hold boxes of all shapes and sizes.
---
Original Press Release:
Roura Adds Gaylord Rotator Box for Safe and Efficient Material Handling
By adding a Gaylord rotator box to their offerings, industrial material handling company, Roura, has made it simpler and safer to maneuver even the most cumbersome corrugated box.
Roura, an established producer of industrial material handling equipment, has announced the expansion of their product line with a Gaylord rotator box. The rotator, which securely holds large cardboard recycling boxes and their contents, turns the transport of an unwieldy and oversized corrugated box into a safe and efficient job for forklift operators. The addition is a testament to Roura's longstanding commitment to safety and efficiency.
Cardboard, corrugated boxes are used for a wide variety of purposes when handling industrial materials. Commonly leveraged to transport large volumes of recyclables, these boxes can become extremely heavy and hazardous to move. Before forklift operators and manufacturing workers had Gaylord rotators to maneuver the cardboard containers, they had to either empty them by piece by piece or take on the dangerous task of lifting and turning several hundred pounds without mechanical assistance. Now, using a rotator, workers are able to quickly and safely adjust, secure, and move industrial boxes and their contents.
The new equipment is engineered for use with a forklift. The forklift must have rotating forks. The operator simply guides the cardboard box into the rotator and secures it using the adjustable side railings. Then, he or she turns the forklift prongs 90 degrees and picks up the rotator from the back. Once in place, the box and its contents can be transported, lifted, turned, and emptied into a larger recycling bin. When finished, the operator removes the empty container and leaves the rotator ready for the next round. To make the task as simple as possible, the Gaylord rotator box is equipped with features such as:
Adjustable side rail guards to secure boxes of different sizes
Maximum load capacity of up to 6,000 pounds
Flared, reinforced opening to easily guide containers into the rotator
Upper brace bar to fit and secure even oversized boxes
Because of its thoughtful design, the rotator offers a long list of benefits to industrial workers of all trades. It not only increases efficiency and safety when loading and unloading large cardboard boxes, but also when emptying their contents. Additionally, because it is gentle on materials, the Gaylord rotator preserves and extends the lifetime of recycling containers. Lastly, the rotator's exclusive, adaptable arms allow it to hold boxes of all shapes and sizes. Read more about the Gaylord rotator box for an example of how to use and adjust a heavy-duty corrugated box.
About Roura Material Handling
Roura Material Handling, Inc., has a rich history spanning back more than a century. In 1915, Joseph Roura founded the company in Detroit, Michigan, as a structural steel business and helped build many of the city's landmarks and bridges. Today, Roura has evolved to be a leading value producer of self-dumping hoppers, rotator boxes, stone products, and related custom fabricated equipment for the material handling industry. To learn more, visit: http://www.rouramh.com/.
Contact:
Roura Material Handling
35355 Forton Court
Clinton Township, MI, 48035
Phone: 586-790-6100