Gauges provide force and torque measurements.
Press Release Summary: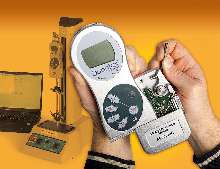 Model AFG Force Gauge features Advanced Loadcell Cartridge, which provides interchangeable cartridges from 0.55-220 lbf and automatically recognizes loadcell range. It offers 5000 Hz data processing, RS-232 data transfer, and 0.1% accuracy. Model AFTI Force/Torque Gauge offers same features but without internal loadcell. Basic Force Gauge Model BFG comes in 6 capacities from 2.2 lbf-550 lbf with accuracy of 0.25%. Compact Force Gauge Model CFG is offered in 11 lbf or 45 lbf models with 0.5% accuracy.
---
Original Press Release:

New Dillon Force Gauge Family Is Industry's Most Advanced


Fairmont, MN-April 29, 2003-Quantrol(TM), a division of DILLON, announces a new line of Force and Torque Gauges including the first with Advanced Loadcell Cartridge (ALC) technology that eliminates calibration simplifying setup. The new family includes four models-the AFG, AFTI, BFG and CFG-Each is designed to provide a broad range of test and compression measurement functions with features designed to increase the throughput and accuracy in every testing application.

Heading the line, the all-new Model AFG (Advanced Force Gauge) Model offers new features including the industries first Advanced Loadcell Cartridge (ALC) offering quick and easy capacity changes. The AFG automatically recognizes the loadcell range whenever a different loadcell is installed, eliminating the need for further calibration. Various display modes show live, peak tension or compression-or all simultaneously. Offering high-speed 5000Hz data processing, RS-232 data transfer, and an accuracy rate of 0.1%, the AFG offers interchangable loadcell cartridges ranging from 2.5N-1000N (0.55-220 lbf). Sharing the superior features of the AFG, but without the internal loadcell, the AFTI (Advanced Force & Torque Gauge) is ideal for those who require a precision external force and torque indicator. The AFTI automatically recognizes Quantrol's full range of Smart force and torque sensors and require no additional calibration.

Also in the new Force Gauge family, the BFG (Basic Force Gauge) Model offers a myriad of new features and a lower price than the model it replaces. The rugged yet, compact, BFG offers the same advanced display features of the affordable AFG, with 0.25% accuracy, and easy operation. The BFG is available in six capacities ranging from 10N-2500N (2.2 lbf-550 lbf). Designed to accomodate the needs of basic force testing.

Rounding out the new family of indicators is a low-cost, compact Force Gauge Model, the CFG (Compact Force Gauge), which provides a compact, cost effective solution for force measurement in the field. Available in 50N or 200N (11 lbf or 45 lbf) models with 0.5% accuracy and rugged construction, the CFG is an economical, high-value force gauge solution.

Dillon, a Division of Weigh-Tronix, Inc., is the world's leading provider of force measurement related products and systems. For further information, contact: Dillon, 1000 Armstrong Drive, Fairmont, MN 56031. Toll-free: 800-368-2031. Phone: 507-238-8253. Fax: 507-238-8258. email: dillon@weigh-tronix.com www.dillon-force.com

More from Services