Gateway promotes industrial communication connectivity.
Press Release Summary: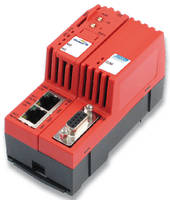 Based on netX chip, netTAP 100 can bridge gaps between traditional fieldbus, real-time Ethernet based systems, and serial protocols. It makes up to 1,000 protocol combinations possible from modular DIN-rail mounted housing and can be configured as master or slave on either end. USB port is used for configuration along with loading network firmware and diagnostics, and gateway also supports Muti-Media Flash card or SD-card for storage of configuration data.
---
Original Press Release:

Hilscher Releases the netTAP 100, a Low-Cost Gateway for Industrial Communication Connectivity



March 2009 - Hilscher North America Inc. is pleased to announce the release of the netTAP 100, the most flexible and cost effective gateway designed to bridge the gaps between traditional fieldbus, Real-Time Ethernet based systems and serial protocols. Based on Hilscher's netX chip, up to 1,000 protocol combinations are made possible in a modular compact DIN-rail mounted housing. The netTAP 100 is capable of linking any of the major fieldbus, real time Industrial Ethernet's and serial protocols used in the market today. Master and Slave protocols for CANopen, DeviceNet, PROFIBUS, CCLink, EtherCAT, Ethernet/IP, Modbus TCP, POWERLINK, PROFINET, SERCOS III, MB/RTU, MB ASCII RS232-, RS422, and RS485 are included for Real-Time I/O data exchange.

The netTAP 100 can be configured to be a master or slave on either end. The configuration software for the master side is an enhanced version of SYCON.net which is an FDT/DTM based tool. A standard USB port is used for configuration along with loading network firmware and diagnostics. The netTAP 100 also supports the use of a Muti-Media Flash card or SD-card for storage of configuration data. This allows configuration data to be easily duplicated or transferred to multiple netTAPs on a network.

Development tools are also available that allow third parties to develop custom protocol gateways utilizing any one of our stacks and gateway application to their own protocol. These protocols would need to be based on any of the standard available hardware supported by netX including; serial, Ethernet, PROFIBUS or CAN based interfaces.

About Hilscher:

The Hilscher group of companies are a 130+ person strong ISO 9001 certified manufacturer of fieldbus products headquartered in Germany with subsidiaries in; Italy, France, Switzerland, Japan, China and new ones and the United States. We offer products with master and slave technology for PROFIBUS, DeviceNet, InterBus, AS-I, ModbusTCP, PROFINET, EtherNet/IP, EtherCAT, SERCOS, SERCOS III, Modbus Plus, Modbus, CANopen, AS-I, ControlNet, etc. Our product architecture is truly scalable with a single driver interface for both masters and slave interfaces of all networks and all form factors. A single configuration tool SYCON.net is used to configure all our products. Drivers are available for all versions of Windows, QNX, Linux, and RTX, VxWorks, etc.. With a Staff of over 130, the Hilscher family of companies are global leaders in field bus technologies.

For Customers Sales:
Gary Catapat
Hilscher North America, Inc.
Phone: 630-505-5301
gcatapat@hilscher.com

More from Transportation Industry Products