Gateway connects SAE J1939 networks to Siemens PLC systems.
Press Release Summary: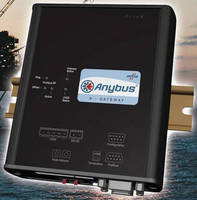 By operating simultaneously as Profibus-DP Slave on Profibus network and as CAN node on J1939 network, Anybus intelligent gateway enables Profibus-DP Master to read and write J1939 network data for control and monitoring tasks. Data is exchanged from either network based on user-defined configuration, and Windows-based tool lets user map J1939 parameter (PGN) data into module's I/O tables. Ruggedized design allows service across variety applications and industries.
---
Original Press Release:
Intelligent Gateway from HMS Industrial Networks Connects SAE J1939 Networks to Siemens PLC Systems
This new addition to the Anybus gateway family enables a Profibus-DP Master to read and write J1939 network data for control and monitoring tasks. The gateway accomplishes this by operating simultaneously as a Profibus-DP Slave on a Profibus network and as a CAN node on a J1939 network. Data is exchanged from either network based on a user defined configuration. HMS provides a free Windows-based configuration tool (BWConfig) that allows the user to map J1939 parameter (PGN) data into the module's input and output tables, accessible by the Profibus Master over the Profibus-DP network. With is rugged industrial design the device is designed for use across a wide variety of applications and industries. These include heavy duty equipment and vehicles used for agriculture, construction, fire and rescue, oil and gas, mining, power generation, motor control, material handling, trucking, mass-transportation and marine applications. Typical uses include applications in oil & gas production, or on-vehicle applications where the gateway is used as an interface between the J1939 network and Profibus based industrial PLCs. On the Profibus side the gateway supports Profibus-DP Slave functionality with cyclic I/O data transmission and it can handle up to 244 bytes Input and 244 bytes of Output data. On the J1939 side the gateway supports up to 35 incoming J1939 transport protocol (large message) sessions and can monitor up to 120 different PGNs in the Input data point configuration and transmit up to 100 different PGNs in the Output data point configuration. The J1939 transport protocol (large message) handler rejects incoming session requests (both BAM and RTS/CTS) for PGN/Address pairs that are not configured as input data points. The J1939 to Profibus gateway is the newest member of HMS´ Anybus gateway family which consist of more than 180 individual versions providing inter-network communications between almost any fieldbus or industrial Ethernet network. HMS Industrial Networks is the leading independent supplier of embedded network technology for automation devices. HMS develops and manufactures solutions for interfacing automation devices to industrial networks. Development and manufacturing takes place at the head office in Halmstad, Sweden. Local sales and support is provided by the HMS branch offices in Chicago, Beijing, Karlsruhe, Milan, Mulhouse and Tokyo. HMS employs over 150 people and reported sales of 33 million in 2008. HMS was formed in 1988 and is listed on the NASDAQ OMX Nordic Exchange in Stockholm in the category Small Cap, Information Technology with ISIN SE0002136242.
Related