Gateway bridges Profibus and Modbus-TCP networks.
Press Release Summary: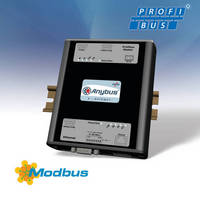 Anybus® X-gateway(TM) allows plant-floor devices on Profibus network to communicate with devices on Modbus-TCP network and vice versa. It functions as server (slave) on Modbus-TCP network and as master on Profibus side. After configuration has been downloaded into X-gateway, it passes up to 512 byte of input and 512 byte of output data transparently between Modbus-TCP and Profibus. Embedded web server on Modbus-TCP side supports web based remote diagnostics and visualization.
---
Original Press Release:

Bridging Profibus and Modbus-TCP Networks with an Anybus® X-gateway(TM)



Simple to use intelligent Gateway connects Schneider Electric, ABB or GE PLC's with Siemens automation systems and networks

The Anybus X-gateway from HMS Industrial Networks enables system integrators to easily transfer I/O data between two different PLC systems and networks. The X-gateway is a configurable stand-alone gateway that allows plant-floor devices on a Profibus network to communicate with the devices on a Modbus-TCP network and vice versa. Typical applications are installations with mixed usage of Siemens and Schneider Electric, ABB or GE PLCs. One example is automobile manufacturing plants where Profibus based segments shall be integrated into industrial Ethernet based control applications with the popular Modbus-TCP protocol.

The X-gateway is a compact device for standard DIN rail mounting and 24 Volt industrial power supply. It functions as a server (slave) on the Modbus-TCP network and as a master on the Profibus side. The Profibus master functionality is configured with HMS´ Anybus NetTool for Profibus, a powerful but easy to use Windows-based configuration tool which comes free with the X-gateway. After the initial configuration has been downloaded into the X-gateway, it passes up to 512 byte of input and 512 byte of output data transparently between Modbus-TCP and Profibus. Up to 124 Profibus slaves can be connected to the gateway. In addition to its data transfer capabilities, the X-gateway incorporates a powerful embedded web server on the Modbus-TCP side which supports web based remote diagnostics and visualization. Even an OPC server is included in the scope of delivery of the X-gateway. The X-gateway contains Profibus and Modbus-TCP communication interfaces that have been certified for full compliance to the respective protocol standards.

The Anybus X-gateway family is a product line consisting of over 200 proven, robust and ready-to-use gateways aimed to connect almost every possible combination of two industrial networks. The product family supports 17 different fieldbus and industrial Ethernet networks such as Profibus, DeviceNet, CANopen, CC-Link, EtherNet/IP, Profinet and many more. All versions work the same way and provide a flexible standard solution to connect two industrial networks.

HMS Industrial Networks is the leading independent supplier of embedded network technology for automation devices. HMS develops and manufactures solutions for interfacing automation devices and systems to industrial networks. Development and manufacturing takes place at the headquarters in Halmstad, Sweden. Local sales and support is handled by the branch offices in China, USA, Germany, Italy, France, UK and Japan. HMS employs 165 people and reported sales of 23 million in 2009. HMS is listed on the NASDAQ OMX Nordic Exchange in Stockholm in the category small Cap, Information Technology: ISIN SE0002136242.

Readers Enquiries:
HMS Industrial Networks
900 W Jackson Blvd Suite 2W
Chicago, IL 60607
Tel: (312) 829-0601
us-sales@hms-networks.com
www.anybus.com

More from Architectural & Civil Engineering Products