Gates Corporation Wins 2011 Plant Engineering Product of the Year Award for MegaSys® Hydraulic Hoses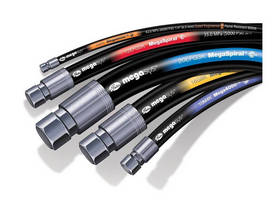 Gates MegaSys® constant pressure hydraulic hose line is voted Product of the Year by subscribers of Plant Engineering magazine.

DENVER, Colo. - Gates Corporation, a leading manufacturer of industrial and automotive products, has won a 2011 Product of the Year award from Plant Engineering magazine for its innovative MegaSys line of constant pressure spiral-wire and wire-braid hydraulic hoses.

"Winners are selected by a vote of qualified Plant Engineering subscribers - the engineers who buy, specify and use these products on a daily basis. They are the most qualified people you can find to understand how new products reduce energy costs, ensure safety and improve productivity on the manufacturing plant floor," said Bob Vavra, editor of Plant Engineering magazine. "That's why the Plant Engineering Product of the Year award is so highly regarded in our industry."

Gates MegaSys hydraulic hoses are easy to handle and can be routed in tight, confined spaces during installation. The spiral-wire hoses can be bent up to one-half and wire-braid hoses up to two-thirds the SAE specification, thereby saving overall hose assembly length and cost by as much as 64%.

MegaSys hoses can handle biodegradable hydraulic fluids like polyester, polyglycol, and vegetable oil, as well as standard petroleum-based fluids. These hoses are found on machine tools, injection molding and die cast equipment, hydrostatic conveyor drives, and plant floor mobile equipment.

Learn more and download a MegaSys brochure at www.gatesprograms.com/hydraulics/megasys.

For more information about Gates Corporation, please contact Mari Jane Panek at 303.744.4533.

About Gates Corporation

Gates Corporation (gates.com) is one of the world's leading manufacturers of industrial and automotive products, systems and components with operations in 30 countries. Gates maintains sales and marketing operations in every major industrial and automotive market, including North and South America, Europe, Asia, Australia and the Middle East.

Gates is part of the Industrial & Automotive group of Tomkins Ltd., which is owned by a consortium comprising Onex Corporation and the Canada Pension Plan Investment Board. Tomkins enjoys strong market positions and technical leadership across all of its business activities and owns some of the best-known brands in their respective markets.


More from Printing & Duplicating Equipment