Gated Outlet provides complete check-screening control.
Press Release Summary: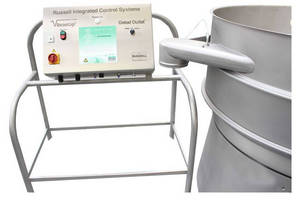 Available in FDA-approved natural rubber, neoprene, or polyurethane, Russell Gated Outlet™ ensures powder products are check-screened, sifted, or separated efficiently and eliminates need to reduce feed rate. Product operates via pneumatically controlled gate placed inside sieve's oversize discharge outlet to control material flow, and gate can be automatically opened and closed for complete control of product discharge. Outlet can be used on any Russell Finex vibratory sieve/separator.
---
Original Press Release:

The New Russell Gated Outlet Provides Complete Control of Check-Screening Operations to Increase Efficiency and Productivity



The New Russell Gated Outlet™ has been designed to ensure that powder products are check-screened, sifted or separated more efficiently to enhance productivity.



It is ideal for high capacity, bulk powder check screening or grading applications, where product has a tendency to prematurely discharge from the mesh before it has time to be fully screened. When powders are discharged prematurely through the oversize discharge outlet, it can result in the loss of good quality product. The Russell Gated Outlet™ eliminates the need to reduce the feed rate and ensures that powder product is sieved effectively.



The system operates via a pneumatically controlled gate, which is placed neatly inside the sieve's oversize discharge outlet to control the flow of material. The gate can be automatically opened and closed, providing complete control of the product discharge. While the gated outlet is sealed, the powder remains on the mesh to ensure it has been screened fully before opening the gate to discharge the powder product.



The outlet can be used on the entire range of Russell Finex vibratory sieves and separators, and can be easily retrofitted to any existing Russell Finex sieve. The gate is available in FDA approved natural rubber, neoprene or polyurethane to comply with the needs of a wide range of industries including food, pharmaceutical and chemicals.



For more information, please visit www.russellfinex.com or email sales@russellfinexinc.com

Related