Gas Turbine Air Filtration System reduces progressive degradation.
Press Release Summary: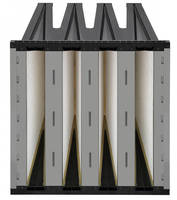 Made using potted pleated panels and mounted in ABS plastic frame, hydrophobic ODSY vCell protects gas turbines used in oil & gas industry against particulate, salt aerosols, and harsh weather conditions. Achieved filtration efficiency grade of E12 per EN1822:2009 equals minimum 99.5% of MPPS, and size of filtration surface area minimizes pressure loss while promoting filter life. Clean pressure loss at rated flow of 5,300 m³/hr is 260 Pa, and salt removal performance is rated to 99.9999974%.
---
Original Press Release:

New Gas Turbine Air Filter System from CLARCOR Brand Altair® Cuts Corrosion and Increases Generated Power Output by Reducing Progressive Degradation



London, UK – Often installed in remote locations such as deserts, jungles, offshore platforms and FPSOs; gas turbines used in the oil & gas industry typically encounter extremely challenging operating environments. High levels of small particulate in the form of sand, dust and shot-debris from drilling, salt aerosols in offshore and coastal locations, and harsh weather conditions all threaten the performance and health of a gas turbine.  A new air filtration system from industry expert altair, the ODSY vCell, provides best-in-class turbine protection against these environmental challenges with unique hydrophobic properties combined with high efficiency performance.



Extensive field trials show significant reductions in gas turbine output degradation between filter washes, leading to increased overall generated output with major financial benefits.  Trials in high-moisture, high-salt coastal sites also show negligible corrosion of turbine blades after 20,000 fired hours – a marked contrast with typical experience using conventional filters.



The ODSY vCell has a filtration efficiency grade of E12 per EN1822:2009, equal to a minimum 99.5% of MPPS. It has an extended filtration surface area that ensures low-pressure loss and supports extended filter life.  Clean pressure loss at the rated flow of 5300m3/h is just 260Pa.  With salt removal performance of 99.9999974%, the altair ODSY filter sets a new standard in corrosion protection and is a significant advance over previous market leading products.



"Every filter company out there stacks up comparably when it comes to standard tests – you wouldn't survive if you couldn't," said Keith White, President of CLARCOR Industrial Air.  "We put the focus on how filtration affects your expensive assets – the multimillion dollar turbines these filters are designed to protect.  The differentiator comes from working with a large turbine manufacturer to understand turbine performance.  Even a few percentage points of improved performance represent large sums in maintenance costs, or more revenue, due to increased power generation."



The altair ODSY vCell is made using fully potted pleated panels to provide a complete seal and is mounted within a rugged, impact resistant ABS plastic frame that incorporates tough protective grids on the downstream surface.  These contribute to a high burst pressure rating of 25" WG; more than adequate for the severe under-pressure conditions that can be experienced in gas turbine applications.  The ODSY cell is sealed into its housing by means of a one-piece polyurethane foam gasket to ensure leak-free performance.



Formerly a part of GE Water and Power, CLARCOR Industrial Air    has locations in Overland Park, KS 66211 USA and Alton UK. It provides customers with expert applications and other technical advice based on nearly 50 years of experience in industrial air filtration. With particular emphasis and expertise in industrial gas turbines, it offers proven, leading solutions designed to keep operations running cleanly and efficiently.



About CLARCOR Industrial Air



With nearly 50 years of experience delivering innovative solutions for gas turbine inlet filtration and monitoring fleet-wide performance data, our industry and applications experts will select the appropriate filter for your site designed to meet your specific operating goals.



CLARCOR Industrial Air supplies a full range of inlet systems and filters engineered to meet your operating goals, including:



• Higher power output

• Lower operating costs

• Proven performance utilizing advanced filter technology

• Extended gas turbine availability

• Maximum protection against corrosion and fouling

• Easy maintenance and change out



We are the choice for advanced filtration for new units and replacement filters. Our inlet system designs include self-cleaning (pulse) and static inlet systems for all gas turbine OEMs. We supply a full range of filter types at all efficiency levels. The predictable and reliable performance of our air filters significantly reduces compressor contamination and the need for unplanned maintenance. For more information visit: www.CLARCORindustrialair.com



Media Contacts:

Stephen Ballard, BCM Public Relations Ltd

s.ballard@bcmpublicrelations.com

+44-1306-88-22-88 - Office

+44- 79868-952-792 – UK Mobile



Lori Ragsdale, CLARCOR Industrial Air

lori.ragsdale@CLARCOR.com

+1-816-313-4496 - Office

More from HVAC