Gas Standards Generator offers variable concentration at constant flow.
Press Release Summary: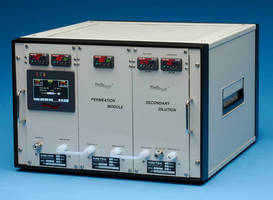 Combining FlexStream(TM) Automated Permeation Tube System and Secondary Dilution Module, FlexStream(TM) CF configuration creates adjustable concentration gas mixtures with constant output flow using permeation tube sources. Software adjusts dilution and aliquot flows to achieve desired concentration in final mixture, facilitating operation and allowing remote/automated control. Concentration adjustment over 200:1 range is possible without affecting output flow.
---
Original Press Release:

Gas Standards Generator Gives Variable Concentration at Constant Flow



Applications:

Constant Flow Test Atmospheres

Odor Panel Studies

Multi-point Calibration of AMC Monitors

Sample Acquisition System Evaluation

KIN-TEK's new FlexStream(TM) (constant flow) CF configuration combines the FlexStream(TM) Automated Permeation Tube System and Secondary Dilution Module to automatically create adjustable concentration gas mixtures with constant output flow using permeation tube sources. Typically, when gas mixtures are made from permeation tubes the mixture concentration is adjusted by varying the dilution flow, so the output flow may vary over a 20:1 ratio. This technique is effective so long as the minimum flow exceeds the application requirement, but it can be problematic when the end use requires a constant and relatively high flow rate of mixture.

With the CF configuration the primary mixture concentration can be varied over a 20:1 range in the permeation module by adjusting dilution flow as in common practice. Then in the secondary dilution module an adjustable aliquot of the primary mixture is added to a fixed output flow to create the final mixture. This method allows concentration adjustment over a 200:1 range without changing the output flow.

FlexStream(TM) software automatically adjusts dilution and aliquot flows to achieve the desired concentration in the final mixture making operation simple, convenient, and allowing remote or automated control.

For more information, please write or call: KIN-TEK Laboratories, Inc., 504 Laurel, La Marque, TX 77568, Phone: (409) 938-3627, Fax: (409) 938-3710, www.kin-tek.com,
email: sales@kin-tek.com

More from Software