Gas Standards are available for low volatility pollutants.
Press Release Summary: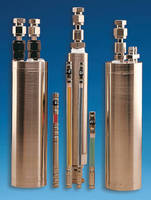 Trace Source(TM) permeation tubes are used to dynamically blend calibration gas standards for Hazardous Air Pollutants (HAPs), such as phenol, toluene 2.4 diisocyanate (TDI), triethylamine, or naphthalene. When held at constant temperature, tubes emit constant flow of vapor. Diluting that flow with known flow of pure nitrogen or zero air forms low-pressure gas standard, and permeation tube flow is measured by monitoring rate of weight loss of tube. Mixtures are traceable to NIST.
---
Original Press Release:

Gas Standards for Low Volatility HAPs



Applications:
Hazardous Air Pollutants such as

Triethylamine

Phenol

Toluene 2.4 diisocyanate

Naphthalene

Kin-Tek's Trace Source Permeation Tubes are used to dynamically blend calibration gas standards for Hazardous Air Pollutants (HAPs) such as Phenol, Toluene 2,4 diisocyanate (TDI), triethylamine or naphthalene. These compounds are not available as cylinder gas standards due to their low vapor pressure and/or instability in storage.

Trace Source(TM) permeation tubes emit a constant flow of vapor when held at constant temperature. Diluting that flow with known flow of pure nitrogen or zero air forms a low-pressure gas standard. Permeation tube flow is measured by monitoring the rate of weight loss of the tube. Mixtures are traceable to NIST through fundamental measurements (weight change, temperature, etc.).

Using Kin-Tek's FlexStream(TM) Automated Gas Standards Generator System, concentrations from above TLV levels down to low parts-per-trillion can be supplied. Mixtures can be either dry or humidified to accurately simulate ambient air samples.

For more information, please write or call: KIN-TEK Laboratories, Inc., 504 Laurel, La Marque, TX 77568, Phone: (409) 938-3627, Fax: (409) 938-3710, www.kin-tek.com,
email: sales@kin-tek.com

More from Electronic Components & Devices