Gas Shutoff Valves incorporate single aluminum bodies.
Press Release Summary: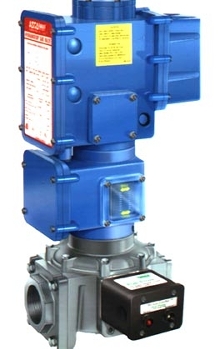 H113 Series double block gas shutoff valve contains 2 distinct shutoff valves and one watertight Hydramotor(R) actuator. Optional Posi-Prove system tests valve seal tightness, and conducts self-check automatically upon system startup. Two independent operating shafts accomplish valve closure, while inlet screen prevents debris from obstructing valve closure. Pipe sizes range from 3/4 to 3 in. Maximum operating pressure differential is rated to 25 psi.
---
Original Press Release:
ASCO(R) Introduces New H113 Series Double Block Valve

ASCO General Controls® is pleased to announce the release of the new H113 Series double block gas shutoff valves. This patent pending design incorporates a single aluminum body containing two distinct shutoff valves and one new watertight Hydramotor® actuator. An optional and patent pending Posi-Prove system dynamically tests valve seal tightness and conducts a self-check automatically upon system startup.

The patent pending double block valve design incorporates the following unique features:

- Two shut-off valves within a single body reduces gas train length and cost.

- Two independent operating shafts accomplish valve closure.

- Unique flange design makes installation and maintenance easy.

- Inlet screen prevents debris from obstructing valve closure and improves seal life.

- Manual tester or optional Posi-Prove system verifies seat closure integrity.

- Visual position indication of both valves is standard.

- Standard valve construction uses silicone-free lubricants.

- Wide range of pipe sizes 3/4" through 3".

- Maximum operating pressure differential up to 25 PSI.

The new Hydramotor® actuator incorporates two separate means of releasing the actuator shaft when de-energized. The actuator enclosure meets Watertight, Dusttight, Driptight and General Purpose requirements and eliminates the cost associated with stocking separate actuators.

For more information

Write: ASCO, 50 Hanover Road, Florham Park, NJ 07932

Tel: 800-972-ASCO

Email: info-valve@asco.com

Visit our web at: www.ascovalve.com
More from Materials