Gas Price Changing System offers wireless operation.
Press Release Summary: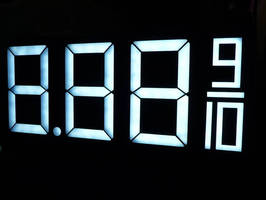 DIGI-BRITE(TM) gas price controller has 4-line LCD readout, price update confirmations, and enables user to change prices without going outside. Ten days of price history records can be retrieved, and users have 1 million pass code and manager/user security level. Up to 12 panels and 6 different fuels can be programmed, and it features battery/AC operation and 16 brightness levels, including city approved brightness setting. Viewing angle is 40° vertical and 140° horizontal.
---
Original Press Release:

Pro-Lite, Inc. Offers LED Gas Price Changing System that Changes Gas Prices Instantly and Wirelessly



Pro-Lite Inc. of Costa Mesa, California, the first company to introduce the 32" indoor red LED sign in 1981, 3 color sign in 1984, and outdoor LED sign in 1987, and owner of patent # US 7,467.486 B2 for a method and apparatus for simulating the appearance of a neon sign, now offers its popular DIGI-BRITE(TM) LED gas price changing system in sizes from 8" to 36". It offers the most unique features and is manufactured using the finest materials on state-of-the-art equipment.

Today's gas stations often face an ongoing dilemma of lost time changing plastic price pieces manually on their current sign in all weather conditions. DIGI-BRITE(TM) changes gas prices instantly and wirelessly. With today's ever-changing gas prices, more and more gas stations are changing their current signs to DIGI-BRITE(TM) systems.

DIGI-BRITE(TM) features Taiwan Opto Electronics red and high-rated green LEDs from CREE USA. It meets IP52 standards, was designed for -40F to +170F operations, is UL listed, and features an aluminum extrusion frame snap/screw. It is wireless with 1 million password protection codes, has waterproof connectors, UL class II industrial power supplies, and wrongful DC connection protection. DIGI-BRITE(TM) offers surge power protection and has 16 levels of photo sensors, a 40-degree vertical/140 degree horizontal viewing angle, and is rated over 5000 NIT at the brightest level.

The DIGI-BRITE(TM) gas price controller has a 4-line LCD readout, price update confirmations, and enables the user to change prices without going outside. Ten days of price history records can be retrieved and seen on the LCD and users have a 1 million pass code and a manager/user security level. Up to 12 panels and 6 different fuels can be programmed, it is self-checking for errors, features battery/AC operation, and has 16 user preference brightness levels. It has a city approved brightness setting, a RS-232 port, an Ethernet/RJ45 adapter, and is POS compatible.

For further information, contact Sales Department,
Pro-Lite Inc.,
3505 Cadillac Avenue-Building D,
Costa Mesa, CA 92626 U.S.A.
Phone: 714-668-9988
Fax: 714-668-9980
Url: www.pro-lite.com


More from Fluid & Gas Flow Equipment