Gas or Liquid Relief Valves-1,500 through 60,000 psi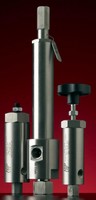 Erie, PA-September 2, 2008-High Pressure Equipment offers a line of relief valves designed to protect a system from over-pressure damage and failure for gas or liquid service. They offer these valves in a factory set style with settings made and tagged accordingly prior to being shipped and a field adjustable style both of which have 316 stainless steel bodies and seat glands.

The factory set relief valves offer pressure ranges from 1,500 through 60,000 psi and 17-4PH stainless steel removable seats and pistons. Viton O-ring is standard on the piston and the valves may be used up to 350° F. These factory set relief valves are not recommended for use below 1,500 psi and are not readily adjustable in the field without proper test equipment. Inlet connections are for 9/16" O.D. tubing with adapters available for other sizes. Outlet connections are 1/2" NPT.

HIP's field adjustable relief valves are available in pressure ranges from 1,000 through 20,000 psi. These valves are not recommended for use under 1,000 psi and are readily adjustable in the field. Inlet connection: 1/4" NPT-HIP-10RV; HF4-HIP-20RV. Outlet connections are 1/4" NPT.

High Pressure Equipment Company designs, manufactures, and markets products used in the chemical, petrochemical, oil and gas, waterjet cutting and blasting, industrial research and development, general industrial, university and pharmaceutical industries. These products include high-pressure valves, fittings and tubing, reactors, pressure vessels, intensifiers, gauges, pumping systems, gas booster systems, and pressure generators.

The company's dedication to its core business has earned High Pressure Equipment Company preferred supplier status in many markets. ISO 9001-certified, the company has shipped more than 2 million valves and fittings to its customers since its incorporation in 1954. See our entire catalog online at www.highpressure.com.

High Pressure Equipment Company, PO Box 8248, 1222 Linden Avenue, Erie, PA, 16505. Phone: 814-838-2028. Fax: 814-838-6075. E-mail: sales@highpressure.com. Web site: www.highpressure.com.


More from Software