Gas Monitors measure ammonia slip.
Press Release Summary: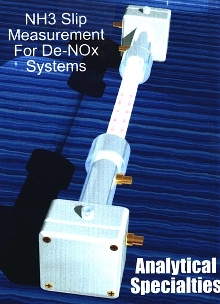 Insitu Laser Gas Monitors provide power plant operators with real-time ammonia slip measurements in NOx removal systems. They install downstream catalyst beds in treated flue gas outlet. Monitors are accurate to 0.1 ppm and other elements in gas flow do not affect ammonia slip data.
---
Original Press Release:
Control Ammonia Slip in De-NOx Systems

Houston TX- Insitu Laser Gas Monitors from Analytical Specialties provide power plant operators with real time ammonia slip measurements in NOx removal systems. These laser spectroscopy monitors install downstream the catalyst beds in the treated flue gas outlet. The manufacturer claims the ability to adjust ammonia injection levels more efficiently, enables operators to optimize catalyst service life, reduce ammonia consumption and emissions significantly. Costly ammonium bisulfate plugging can also be better controlled. Analytical Specialties Insitu Laser Gas Monitors install inline easily on new or existing SCR systems. These monitors are accurate to 0.1 ppm and other elements in the gas flow do not affect ammonia slip data.

Analytical Specialties manufactures and distributes instruments and controls for a wide range of industries. For more information on the Laser Gas Monitors and other Analytical Specialties products call write or visit analyzer.com.

Analytical Specialties Inc.

1030 Hercules

Houston, TX 77058

Phone: 281-488-0409

Fax: 281-488-4971

e-mail: anaspec@analyzer.com

www.analyzer.com
Attn: Mark Rehak
More from Architectural & Civil Engineering Products