Gas Mixer allows precision mixing of up to 4 gases.
Press Release Summary: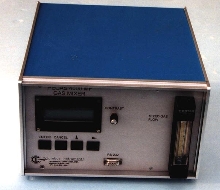 Pegas 4000MF operates under control of internal microprocessor and utilizes mass flow controllers, which make gas mixture independent of temperature or gas pressure. Gas flow ranges from 100 ml to 20 L/min. Flow controllers' accuracy is 1% with repeatability of 0.2% full scale and require input gas pressures at 30 psi. Front panel gas flow meter (rotameter) confirms level of output gas mixture flow. Mixer can operate under control of PC communicating via RS-232 COM port.
---
Original Press Release:
New Pegas 4000 Precision Gas Mixer

New Pegas 4000MF Gas Mixer allows precision mixing of up to 4 gases utilizing precision mass flow controllers, which make gas mixture independent of temperature or gas pressure. Gas Mixer operates under control of an internal microprocessor. To set up
the gas mixture user has to enter total mixed gas flow and concentration for each gas component utilizing a four-buttoned keypad and LCD front panel display. Alternatively, the mixer can operate under control of a PC communicating with the mixer via RS-232 COM port.

Gas flow ranges for mass flow controllers are available in the range from 100 ml to 20 L/min.

Flow controllers accuracy is 1% with repeatability 0.2% full scale and require input gas pressures at 30 psi. Front panel gas flow meter (rotameter) confirms level of out put gas mixture flow.

Pegas 4000MF gas mixer is intended for a variety of industrial and research application where precision mixture of gases are required and where remote computer control of mixed gas is desirable. Gas mixer dimensions are 33cm x 29cm x 19cm and weighs 14lbs (6.4 KG).

For more information contact:

Columbus Instruments

950 N. Hague Ave.

Columbus OH 43204-2121

Tel: (614) 276-0861

Fax: (614) 276-0529

Email: sales@colinst.com
Related