Gas-Insulated Switchgear utilizes eco-efficient gas.
Press Release Summary: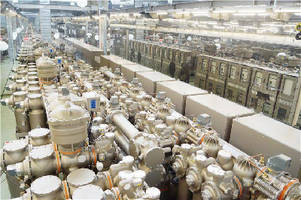 Offering alternative to widely used greenhouse gas sulfur hexafluoride (SF6), AirPlus™ uses fluoroketone based gas mixture as insulation medium for medium- and high-voltage switchgear applications. Global warming potential of chemical compound is almost 10% lower than that of SF6, without any compromise on equipment quality and reliability.
---
Original Press Release:
ABB's Breakthrough in World's First Gas-insulated Switchgear with Eco-efficient Gas
Dallas, Texas, - Eco-efficient gas switchgear technology substantially reduces carbon footprint

ABB, the leading power and automation technology group, has achieved a significant breakthrough in gas-insulated switchgear technology with AirPlus™, a new eco-efficient gas mixture alternative to the widely used greenhouse gas sulfur hexafluoride (SF6).

The U.S. is on a mission to reduce greenhouse gas emissions in the range of 17 percent below 2005 levels by year 2020 as outlined in the U.S. Climate Action Report1

ABB's new eco-efficient switchgear technology called AirPlus uses a fluoroketone based gas mixture as the insulation medium for medium- and high-voltage switchgear applications. This is a chemical compound developed for switchgear applications in collaboration with 3M. Global warming potential (GWP*) of the new gas mixture is almost 100 percent lower than that of SF6, without any compromise on equipment quality and reliability. This can result in lowering CO2 equivalent emissions of the GIS by half, through the lifecycle of the equipment – the other half being attributable to raw materials, manufacturing and thermal losses during operation.

The technology has been successfully commissioned in a pilot installation in Zurich, Switzerland for a leading Swiss utility, ewz, in August 2015.

"This significant achievement and successful commissioning of the pilot substation paves the way for more eco-efficient switchgear in the years to come," said Anders Sjoelin, ABB Lead Division Manager, North America, Power Grids division. "It reiterates our focus on technology as an integral element in ABB's Next Level strategy to help our customers lower their environmental impact."

In a power system, switchgear is used to control, protect and isolate electrical equipment to boost the reliability of the electrical supply. With GIS technology, key components including contacts and conductors are protected with insulating gas. Compactness, reliability and robustness make it a preferred solution in urban areas and other places where space is a constraint, or in harsh environmental conditions.

For decades, SF6 gas has been used extensively in the electrical industry for dielectric insulation and current interruption due to its physical properties. Pressurized SF6 gas facilitates the safe and reliable operation of gas-insulated switchgear, making it possible to significantly reduce the size of switchgear installations. However, it is a greenhouse gas and its lifecycle management requires careful handling and can entail substantial costs, particularly when decommissioning aging substations.

ABB pioneered high-voltage GIS in the mid-1960s and continues to drive its technology and innovation, offering a full range product portfolio with voltage levels from 6.6 to 1,200 kV. As a market leader in high-voltage and medium-voltage GIS technology, ABB has a global base of more than 300,000 GIS installations. This latest breakthrough will enable further reduction in carbon emissions without compromising efficiency and reliability.

ABB will be demonstrating this new eco-efficient gas-insulated switchgear technology in booth #5216 at the IEEE PES T&D conference and exhibition in Dallas.

ABB (www.abb.com) is a leader in power and automation technologies that enable utility, industry, and transport and infrastructure customers to improve their performance while lowering environmental impact. The ABB Group of companies operates in roughly 100 countries and employs about 135,000 people. The company's North American operations, headquartered in Cary, North Carolina, employ about 27,000 people in multiple manufacturing, service, engineering and other major facilities.

* GWP: The global warming potential describes how much heat a greenhouse gas traps in the atmosphere. It compares the amount of heat trapped by a certain mass of the gas in question to the amount of heat trapped by a similar mass of carbon dioxide. GWP is expressed as a factor of carbon dioxide.

Source: 1 United States Climate Action Report 2014

For more information please contact:
Bill Rose
ABB Inc.
Media Relations Manager
Power Grids Division
North America
901 Main Campus Drive
Raleigh, North Carolina, 27606 USA
Phone: 1 919 807 5743
Mobile: 1 919 244 4879
email: bill.rose@us.abb.com
Twitter: @BillRose_ABB
More from Test & Measurement