Gas Heaters offer capacities from 40,000-250,000 BTU/hr.
Press Release Summary: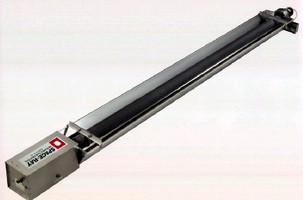 Available in natural and propane gas with tube lengths from 15-80 ft, LTS Series straight tube infrared heaters come in 19 models and in more than 100 different configurations. Corner reflectors and 90° elbows allow mounting near walls, doors, or corners. Certified for horizontal and vertical venting, heaters can be horizontally mounted for max 75 ft sidewall venting. They are also certified for incline mounting on up to 2 ½ pitch roof surface.
---
Original Press Release:

Space-Ray Adds Four New High Capacity Units To Its Line Of LTS Series Infrared Gas Heaters



Contact: Bob Genisol
(704) 372-3485

CHARLOTTE, North Carolina - Space-Ray has added four new higher capacity units to its line of LTS Series infrared gas tube heaters that allow industrial and commercial users to better custom design a radiant heating system to more efficiently meet their needs.

Available in both natural and propane gas, the LTS Series infrared straight tube heaters now come in 19 different models and in more than 100 different configurations, with capacities ranging from 40,000 BTU/hrto 250,000 BTU/hr. Heaters can be used in a straight, L-shape, U-shape orZ shape configuration. For added flexibility, 90-degree elbows and corner reflectors allow mounting near walls, doors or corners.

CSA design certified, like all Space-Ray tube heaters, the LTS Series heaters are certified for both horizontal and vertical venting and can be horizontally mounted for a maximum 75-foot sidewall venting capability instead of the normal 15-feet sidewall venting in most other units. Heaters can be either vented, common vented or indirect vented based on application requirements The LTS Series heaters are also certified for incline mounting on up to a 2 1/2 pitch roof surface.

Heaters are ideally suited for insulated buildings and facilities with high ceiling heights to help create an efficient and comfortable atmosphere for employees and customers. Heaters can be mounted at heights of 12 feet and higher, based on burner capacity, with some large capacity LTS series units installed successfully as high as 75 feet above finished floor. Tube length varies from 15 to 80 feet, depending on the model.

Applications range from industrial plants and warehouses to aircraft hangars, machine shops, welds shops, maintenance facilities, automotive body shops and dealerships, fire stations, restaurants, sports facilities and greenhouses plus others.

Heaters Described
Tube heaters come with a factory pre-assembled tube and reflector body and quick six-bolt control box assembly for easy, low cost on-site installation. The unitized design also allows simpler re-arrangement within the facility since the LTS series are not dependent on other heaters or a central vacuum pump in the system. Space-Ray's LTS Series infrared tube heaters can also be thermostatically controlled, individually or in groups, for greater operating control of heating requirements.

The LTS Series heaters incorporate many features not found on most competitive units, including a unique self-contained heavy-duty draft inducer that pulls products of combustion through the totally enclosed heavy-duty calorized aluminized steel combustion chamber for increased radiant efficiency, greater safety and a more uniform tube operating temperature. The draft inducer is permanently lubricated and fan-cooled. A heavy-duty ball bearing motor assures maintenance-free operation.

Other features include a unique monitoring light system for on-line diagnosis and simple, easy maintenance; a state-of-the-art step opening redundant combustion gas valve for quieter ignition and added safety; a closed combustion chamber design for safety; and direct spark ignition with 100 percent shut off safety-control valve.
The reflector design of the heater totally covers the emitter tubes for a more uniform energy distribution at the floor level, maximum emitter tube temperature and minimum convection loss. End reflectors are standard part of the heater design.

The rugged one-piece cast-iron burner comes with a 10-year limited warranty. The calorized aluminized steel tubes do not peel or flake, assure uniform tube temperature for long life, and produce high radiant efficiency. It comes with a five-year limited warranty.

In contaminated atmospheres or high humidity areas, optional outside air for combustion can be supplied with a standard 6-in. round duct. The LTS series is also C.S.A. certified for up to 50-ft outside fresh air.

"Like the highly radiant efficient LTU Series U-tube infrared heaters, the LTS Series heaters have features not available on most competitive units," noted Bob Genisol, Vice President of Space-Ray. Genisol emphasized that the pre-assembled LTS series can minimize the installation time and save an installing contractor up to $250 per heater based on the installation height and requirements.

"This is substantial savings for the installing contactor for the top of the line straight tube heaters," said Genisol. "It adds to our record of trouble free installation, flawless operation, low maintenance and fuel efficiency."

Genisol added that with our expanded line, Space-Ray offers among the broadest and most complete line of tube heaters in the industry with over 200 different heating configurations to choose from to exactly match the need of our customers.

Space-Ray has manufactured gas-fired infrared heating systems since 1958. Like the other Space-Ray radiant tube heaters, the new expanded series offer fuel economy and radiant efficiencies unsurpassed by many competitive systems. Annual fuel savings of as much as 50 percent compared to forced-air heating have been achieved by Space-Ray tube heaters. Some Space-Ray customers report fuel savings as high as 70 percent with a payback in less than one year.

Unlike forced-air heating which works from the top down, radiant gas heat works from the bottom up, warming people, floors, and machines first for optimum comfort.
The first U.S. manufacturer to design unitized tube heaters, Space-Ray has over 48 years of field experience and exposure to industrial heating and commercial heating problems.

Besides the expanded line of LTS low intensity tube heaters, Space-Ray also offers a complete line of LTU series low intensity tube heaters, 16 ETS/ETU low intensity tube heaters, a complete line of ceramic heaters, and radiant floor heaters. The company also offers an exclusive computerized COMPUHEAT heat loss analysis free of charge to qualified plant managers, contractors, and building owners.

Headquartered in Charlotte, North Carolina, Gas-Fired Products also has a wholly owned subsidiary in Ipswich, England.

For more information on the LTS Low-intensity tube heaters, contact Space-Ray at P O Box 36485, Charlotte, N.C. 28236, call toll-free (800) 438-4936 or call (704) 372-3485. FAX is (704) 332-5843 and e-mail info(a)spacerav.com. Space-Ray can also be found on the web at www.spaceray.com

More from Packaging Products & Equipment