Gas Flow Computer offers anytime, anywhere user access.
Press Release Summary: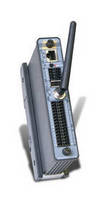 Housed in rugged enclosure, TBox LT2 comprises remote terminal unit and TFlo™ gas measurement software with pre-configured PC menus and Web pages. RTU offers all-in-one SCADA system featuring integral Web server, 3G wireless communications, and cyber security application suite, all integrated with programmable automation, alarm notification, data logging, and Ethernet communications. Operating from -40 to +70°C, system is suitable for well sites or multiple-run metering and regulating stations.
---
Original Press Release:

Semaphore Announces Natural Gas Measurement Solution with Anytime, Anywhere User Access



The easy to install and service TBox LT2 gas flow computer is housed in a rugged, compact enclosure.



Semaphore TFlo software provides accurate measurement and control functionality at well sites or multiple-run metering and regulating stations.



LAKE MARY, FL — Highlighted Links



Semaphore Gas Flow Measurement Solution

Semaphore, a Servelec Group Company, announces the industry's fastest, most secure gas flow computing solution that provides measurement and control plus access by users, anytime, anywhere. Housed in a rugged, compact package, the solution incorporates integrated 3G cellular communications, Web server, immediate notification technology, and mobile device connectivity.



Semaphore's new gas flow measurement computer is ideal for production sites with multiple wells and multiple run metering and regulating (M&R) stations. It can scale from one well to thousands without changing infrastructure. The solution provides compatibility and connectivity with legacy or future devices -- for easy and immediate data acquisition and notification.



Semaphore's flow computing solution meets or exceeds Alberta Energy Regulator (AER) Directive 17 and American Petroleum Institute (API) Chapter 21.1 requirements. It operates over a -40 to 70 degree C temperature range and is approved for installation in Class I, Division 2, Groups A - D hazardous areas.



The flow computing solution consists of Semaphore's TBox LT2, high-performance remote terminal unit (RTU) and TFlo™ gas measurement application software with pre-configured PC menus and Web pages.



TBox LT2 RTU is an all-in-one SCADA system featuring integral Web server, 3G wireless communications, and a complete cyber security application suite, all tightly integrated with programmable automation, alarm notification, data logging, and Ethernet communications. TBox LT2 provides instant notification of alarms and live conditions via e-mail, FTP, and text messaging, as well as timely reporting of gas measurement information to multiple recipients. It also provides traditional, SCADA communications for gas measurement using the Enron Modbus protocol.



TFlo™ software is a standard application that supports any combination of meters that are common in well site and pipeline installations, including Coriolis, positive displacement, rotary, orifice, turbine, ultrasonic, V-Cone, and Wafer Cone. TFlo software's flow and energy calculations include the latest versions of AGA3, AGA5, AGA7, AGA8 Gross & Detail methods, and AGA11 (mass to volume calculation).



Device-agnostic Web pages make information available to users anytime, anywhere with connectivity to virtually any mobile device. In addition, with Semaphore's WebForm™ Studio 2.0 Webserver, users can quickly customize Web pages to meet specific requirements without coding or programming.



The Semaphore Gas Flow Measurement Solution can be ordered for delivery during the first quarter of 2014. For more information, visit http://www.servelec-semaphore.com/solutions/gas-flow-measurement.php.



About Semaphore

Semaphore's TBox and Kingfisher application software, RTU products, and Web configuration tools are ideal for a broad range of monitoring and control applications in the oil and gas production and distribution, power, broadcast/telecom, transportation, and water/wastewater industries. The company's telemetry, automation, and remote monitoring solutions have an installed base of over 100,000 devices. For more information, visit www.servelec-semaphore.com.



Semaphore is part of the Servelec Technologies Group, a newly-formed company within Servelec Group plc, under which sits all of Servelec's SCADA and telemetry-related businesses. In addition to Semaphore, the group includes Tynemarch Systems and Servelec Systems. Servelec Technologies Group is a global provider of SCADA and specialist software solutions, Remote Telemetry Units (RTUs) and consultancy services. For more information, visit www.servelec-group.com.



Contact:

Kevin L. Finnan

Semaphore

860-618-0293

kevin.finnan@servelec-semaphore.com

More from Communication Systems & Equipment