Gas and Chemical Sensors / Detectors
Gas, Flame Detection System is solar-powered and wireless.
Press Release Summary: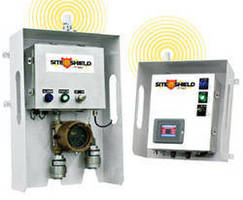 To promote flexibility, SiteShield Detection System can be configured and reconfigured for any site-specific energy demands, environmental conditions, and safety requirements. Offering simultaneous gas and flame detection, autonomous unit is available in stand-alone, dual-sensor detector configuration or in networked system. It can communicate with 16 remote sensors (expandable) from one controller, and detectors may be added/subtracted to network at any time without going offline.
---
Original Press Release:

Net Safety Monitoring SiteShield - Solar-Powered, Wireless, Multi-Point Gas & Flame Detection System Released



Net Safety Monitoring announces its launch of an innovative, autonomous detection package with unparalleled versatility and capabilities, the SiteShield Detection System. The SiteShield design provides the ultimate in flexibility, allowing your package to be configured and reconfigured for any site's specific energy demands, environmental conditions, and safety requirements.

It is also the ONLY autonomous package on the market that provides simultaneous gas and flame detection in a single unit, being compatible with our entire range of advanced sensing technologies. This includes our state-of-the-art Phoenix Triple IR, UV/IR, and UV flame detectors --- our full range of fast response toxic and O2 Electrochemical gas sensors --- our next generation nano-enhanced MOS sensors with super fast H2S response and ideal for hot, dry conditions --- poison-resistant Catalytic Bead sensors with SensorGuard technology, which greatly prolongs sensor life --- and our dual-beam Infrared sensor technology, designed with no mirrors, which are known to become contaminated ("fogged up") or misaligned.

Available in a stand-alone, dual-sensor Detector configuration or in a networked system. Communicate with 16 remote sensors (expandable) from a single Controller, easily add and subtract Detectors to the network at any time without going offline. Freewave® wireless signals are standard, offering the most robust, license-free communications available. Fully encoded, 900MHz signal with superior noise immunity and data integrity can travel through obstructions for several kilometers. Other signal protocols also available. This system completely eliminates the time and expense of trenching, cabling, and wiring conduit usually required for perimeter/site gas and flame monitoring.

Multiple options are available for: sensors, transmitters, communications, beacons/alarms, mounting, cabling and power supply/generation. Virtually no limitations, we can provide the optimum detection solution for your specific application.

SiteShield Detection System - Full Product Specifications

About Net Safety Monitoring

Net Safety Monitoring Inc. is a global leader in the design, development, and manufacture of fixed toxic and combustible gas detectors, flame detectors, safety systems, ultrasonic gas leak detection and ancillary safety and security products. Net Safety has built a reputation for developing products that are engineered for continuous performance, even in the most extreme environments. At our state-of-the-art R&D lab and manufacturing facility we enforce strict quality standards and intelligent engineering to ensure that all our products meet the demands of the toughest industrial environments and applications - all certified to the strictest global standards for safety and performance. With certified representation throughout the world as well as global sales/support offices located in Calgary, Houston, Abu Dhabi, Beijing and Singapore, Net Safety Monitoring is committed to delivering unparalleled service and support for all of the products we produce. For more information about Net Safety Monitoring and its products, please visit www.net-safety.com.

More from Laboratory and Research Supplies and Equipment