Gas-Fired Water Heater and Boiler have compact design.
Press Release Summary: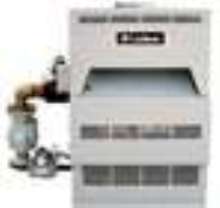 Copper-Fin® products include combustible floor shield, low-profile draft hood, and electronic intermittent ignition. Boiler features 2-stage firing control system and automatic reset high limit, while water heater includes pump delay/freeze protection and manual/automatic reset high limit. Products also utilize copper finned-tube heat exchanger with gasketless design and cast-iron headers, Loch-Heat(TM) ceramic insulation tiles, and stainless steel burners.
---
Original Press Release:

Lochinvar® Unveils New and Improved Copper-Fin® Gas-Fired Water Heaters and Boilers


LEBANON, Tenn. (October 14, 2004) - Lochinvar Corp. is proud to unveil its new and improved Copper-Fin® line of gas-fired water heaters and boilers. Upgrades include a built-in combustible floor shield, a built-in low profile draft hood, electronic intermittent ignition, and a two-stage firing control system for boilers.

"You can see some of the changes just by looking at the new Copper-Fins," says Bill Vallett, Jr., president of Lochinvar. "But these enhancements go far beyond the surface. They make a noticeable, real-world difference in the performance of our products."

The redesigned Copper-Fin boiler is much more flexible in its operation. Its two-stage electronic temperature control saves fuel by regulating boiler output to match system demand. The boiler only fires at full output: when the heating load requires it. As the building demand is met, the boiler reduces the firing rate to match the lesser load. This not only saves money but also extends the life of the equipment.

The new Intermittent Ignition Device also reduces fuel costs by eliminating the need for a continuously burning pilot light. This feature is now standard equipment on both the Copper-Fin boiler and water heater (CW315-500). Copper-Fin continues to excel in energy efficiency: 82% thermal efficiency. This means 82 cents out of every fuel dollar are used to create heat.

The heart of the Copper-Fin line is its unique copper finned-tube heat exchanger. The gasketless design reduces the risk of leaks or system failures that are common in other products. With cast-iron headers for long-lasting durability, the copper-finned tubing allows for fast and efficient heat transfer. Copper-Fin's low-mass design means that water gets heated almost instantaneously, ensuring minimal energy consumption and lower operating costs.

The Copper-Fin line also employs Lochinvar's Loch-Heat(TM) ceramic insulation tiles. This space-age technology is 25 percent lighter than other refractory materials.

Copper-Fin's compact design simplifies installation and maintenance. The lower overall height of the draft hood makes Copper-Fin easier to install in all applications, especially in situations where overhead space is limited. The Copper-Fin is equipped with heavy-duty stainless steel burners that can easily be adapted for use with either natural or liquefied petroleum (LP) gas. Its design allows for easy access to all major components for servicing. Even the heat exchanger is designed to slide out the front for faster maintenance.

Other standard features of the Copper-Fin boiler include:

o Two-stage controls
o Automatic reset high limit
o ASME pressure relief valve
o Built-in draft diverter
o Built-in Combustible Floor Shield
o 10-year limited warranty on heat exchanger

Standard features of the Copper-Fin water heater include:

o Built-in draft diverter
o All-bronze circulating pump
o Pump delay/Freeze protection
o Glass-lined water surfaces
o Built-in Combustible Floor Shield
o Manual and automatic reset high limit
o ASME temperature and pressure relief valve
o 3-year limited warranty on heat exchanger

For more information regarding Lochinvar's high-efficiency water heaters, boilers and pool heaters, contact: Lochinvar Corp., 300 Maddox Simpson Parkway, Lebanon, Tenn. 37090; Phone: (615) 889-8900; Fax: (615) 547-1000; www.Lochinvar.com.

More from Computer Hardware & Peripherals