Gas Fired Preheating Oven offers 4-6 parts/min throughput.
Press Release Summary: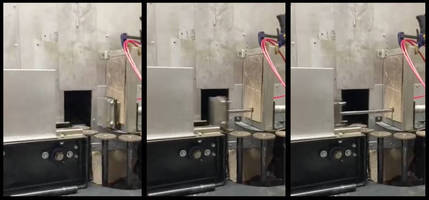 Used for heating aluminum billets, which enter press to be forged into pistons, 12 ft 9 in. x 11 ft 4 in. x 12 ft gas fired preheating oven can produce 240–360 parts/hr. Furnace temperature is 850°F (950°F max), and dwell time is 30 min. Integral sensor detects 3 in. dia x 2.5–4 in. long products in place at oven exit, and extractor/pusher pushes billets onto transfer conveyor. Gas convection equipment includes nozzle mixing type burners with integral blower.
---
Original Press Release:

Gas Fired Preheating Oven



• Gas Fired Preheating Oven for heating aluminum billets, which enter the press to be forged into pistons

• Production Rate: 240 to 360 parts per hour (4 to 6 parts per minute)

• Furnace Temperature: 850°F (950°F Maximum)

• Dwell Time: 30 minutes

• Product size: 3" diameter; 2.5" – 4" in length

• Overall Furnace size: 12'9" long x 11'4" wide x 12' high



SPECIAL FEATURES



•    Extractor Pusher & Sensor (Pictured Here) – A sensor detects a part in place at the oven exit and the extractor/pusher pushes the billets onto a transfer conveyor.

•    Conveyor – Vertically mounted dual strand chain conveyor system runs through the entire length of the furnace. Equipped with SS pedestals for loading billets. 60' overall length, speed 2 FPM.

•    Gas Convection Equipment – Nozzle mixing type burners for wide range of turn down. Integral blower in burner provides air for combustion independent of air circulation within oven. High turn down ratio and 3 phase motor.

Related