Gas-Fired Conveyor Oven dries moisture off aluminum coils.
Press Release Summary: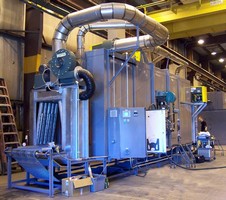 Built with 20 ft 4 in. x 2 ft 6 in. x 3 ft 6 in. work chamber, 300ºF oven performs 51 sec blow-off, 9 min drying at 250°F, and 1.8 min cool-down. Prior to entering oven, aluminum replacement coils are leak tested by placing coils in water bath and pressurized with air. Water load processing capability is 180 lb/hr, and coils are processed through drying system at 60 units/hr. Along with 4,000 fpm vertical angled supply nozzles, oven features 10,000 fpm blow-off nozzles.
---
Original Press Release:

Conveyor Oven Dries Moisture Off Aluminum Coils



Wisconsin Oven designed and manufactured a gas fired conveyor oven with a blow off and cool down for drying moisture on aluminum replacement coils. The oven has horizontal airflow and a work chamber that is 2'6" wide x 20'4" long x 3'6" high and a 300º F maximum operating temperature.

Prior to entering the oven, the aluminum replacement coils are leak tested by placing the coils in a water bath and then pressurized with air. The water load to be processed in the oven is 180 lbs per hour. The coils are processed through the drying system at a rate of 60 units per hour. The system consists of a 51 second blow-off, 9 minute drying oven at 250° F, and a 1.8 minute cool-down. After exiting the oven, the coils go directly to packaging. The customer performed a systems acceptance test prior to shipment that required the end product to only weigh .16 oz more than the pre-water bath weight. All 30 parts that were tested passed the test.

The equipment features a 1" x 1" flat wire belt driven by a DC drive with potentiometer speed control, and a 304 stainless steel blow-off and oven interior. There are 4,000 FPM vertical angled supply nozzles through the oven and 10,000 FPM blow-off nozzles. The controls feature a Honeywell UDC 2500 controller with auto tune, an Allen-Bradley Compact Logix PLC with Ethernet connection and a PanelView Plus 600 touch screen for operation of the equipment. The equipment also uses an Eclipse 160AH burner (rated at 1,600,000 BTUH) and modulating gas control.

This drying system has an energy saving feature that uses photo eyes to sense parts entering the system. When it is established that there are no parts in the system after a set amount of time, the conveyor will stop, the blow-off and cooling systems will shut down, and the oven temperature will be reduced.

For further details on this equipment, or if you would like to work with us on another application, call Jack Unterweger at (262) 642-6027, or by email at jack@wisoven.com.

More from Software