Gas Discharge Tube has flat, space-saving design.
Press Release Summary: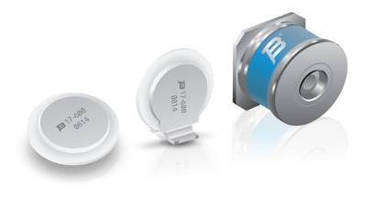 Using flat package and horizontal circuitry design, 2-electrode Bourns® Model 2017 Series FLAT® GDT meets sensitive overvoltage protection requirements of high density and space-restricted applications. This ITU K.12 Class III GDT device, rated at 10 kA on 8/20 µsec waveform, maintains device's isolation and current-handling overvoltage protection capabilities.  With multiple mounting options and DC breakdown voltages from 90–500 V, these devices do not impact signal or system operation.
---
Original Press Release:

Setting a New Standard in Volume, Space-Saving Circuit Protection Design, Bourns Introduces New FLAT® GDT Products



Reducing Device Height by 75%, Bourns' New FLAT® GDT Maintains Robust Isolation and Current-Handling Overvoltage Protection Capabilities



RIVERSIDE, Calif. -- Bourns, Inc., a leading manufacturer and supplier of electronic components, today introduced a new Gas Discharge Tube (GDT) series using a breakthrough flat package design setting a new standard in volume and space-saving circuit protection design. The 2-electrode Bourns(®) Model 2017 Series FLAT(®) GDT uses a breakthrough flat package and horizontal circuitry design to innovatively meet the more sensitive overvoltage protection requirements of high density and space-restricted applications such as telecommunications and industrial communications equipment, surge protective devices and printed circuit board (PCB) assemblies. The new series delivers a 75% savings in volume as compared to standard 8 mm Bourns(®) GDTs. When vertically mounted, the Model 2017 Series is capable of supporting approximately twice the number of GDTs in the same board space as compared to similar board space using surface mount 8 mm Bourns(®) GDTs.



In addition to reducing height and overall volume, Bourns' new FLAT(®) GDT technology is able to maintain the device's robust isolation and current-handling overvoltage protection capabilities. This new compact GDT solution offers superior surge current ratings, low leakage and insertion loss with constant capacitance regardless of voltage. These devices also do not impact signal or system operation due to their voltage limiting capabilities optimized for long-term reliability and performance to satisfy the needs of today's more complex electronics equipment.



"Significantly saving valuable printed circuit board space that helps solve one of the major issues of higher density application design, Bourns(®) FLAT(®) GDTs maintain the key features and critical protection benefits of conventional GDT technology.  Pioneering the next standard in miniaturizing circuit protection design, Bourns' engineering team employed a unique isolation pathway to 'squeeze' the GDT in the axial direction resulting in significantly reduced height and volume as compared to similarly-rated conventional GDTs," said Kurt Wattelet, product manager at Bourns, Inc.



The Model 2017 Series is an ITU K.12 Class III GDT device rated at 10 kA on an 8/20 µs waveform. The series features DC breakdown voltages ranging from 90 to 500 V.  Maximizing its design flexibility, the FLAT(®) GDT offers multiple mounting options including bottom-side PCB, and is available in horizontal and vertical surface mount versions as well as a leadless design for cartridge or clamp fit applications.



Pricing and Availability

The Bourns(®) Model 2017 FLAT(®) GDT is RoHS compliant* and available now.  As a pricing reference, the Bourns(®) Model 2017 is priced at $ 0.48 each in 1,000 piece quantities. For more information, please see the Bourns(®) FLAT(®) Series product page.



About Bourns

Bourns, Inc. is a leading manufacturer and supplier of position and speed sensors, circuit protection solutions, magnetic components, microelectronic modules, panel controls and resistive products. Headquartered in Riverside, California, USA, Bourns serves a broad range of markets, including automotive, industrial, consumer, communications, non-critical life support medical, audio and various other market segments. Additional company and product information is available at www.bourns.com.



*RoHS Directive 2002/95/EC Jan. 27, 2003 including annex and RoHS Recast 2011/65/EU June 8, 2011.



Bourns(® )and the Bourns logo are registered trademarks of Bourns, Inc. and may be used only with the permission of Bourns and proper acknowledgement. Other listed names and brands are trademarks or registered trademarks of their respective owners.



Agency Contact:

Annette Keller

Keller Communication

(707) 947-7232

annettekeller@sbcglobal.net



Company Contact:

David Scofield

Bourns, Inc.

(951) 781-5054

david.scofield@bourns.com

More from Optics & Photonics