Gas and Chemical Sensors / Detectors
Gas Detector is diffusion-based.
Press Release Summary: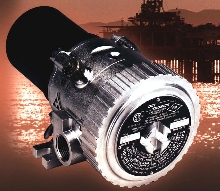 PointWatch Eclipse point infrared combustible gas detector continuously monitors hydrocarbon gases in 0 to 100% lower explosive limit range. Standard outputs include isolated 4-20 mA signal with HART(TM) and RS-485 serial communication. Heated sapphire optics have removed weather shielding to speed inspection. Unit includes integral wiring termination box plus tri-color LEDs for normal, alarm, and fault indication.
---
Original Press Release:
All-New Infrared Hydrocarbon Gas Detector Offers Highest Operating Availability

Minneapolis, MN. The Det-Tronics PointWatch Eclipse point infrared hydrocarbon combustible gas detector is an 'all-new' diffusion-based device from Detector Electronics designed for the fastest possible field maintenance in order to minimize service and inspection time and thus maximize availability.

Continuously monitoring hydrocarbon gases in the 0 to 100% lower explosive limit (LEL) range, its standard outputs include isolated 4-20mA signal with HART(TM) and RS-485 serial communication. Heated sapphire optics ensure operational reliability and have quickly removed weather shielding to
speed inspection.

A single PCB design with an absolute minimum of electrical interconnects gives maximum reliability. A patent-pending optical system permits the use of a single source for both required IR wavelengths, instead of the usual two sources, which both improves performance and extends reliable service life
by eliminating one of the pathways that traditionally limit achievable MTBF (mean time between failure).

The compact unit includes an integral wiring termination box plus tri-colour LEDs for normal, alarm and fault indication. Sensitivity is rapidly checked in the field with a hand-held device inserted into the optical path, eliminating the need to use compressed gas.

Predictive maintenance programs are implemented by digital communication with the detector either by HART or ModBus protocols, with the former having the advantage that the digital signal rides on the current loop circuitry so that no additional field wiring is required.

Non-intrusive calibration simplifies use, with the device factory set for methane detection. Field calibration for ethane, propane/butane and propylene is allowed either remotely by using an intrinsically safe hand-held Rosemount 275 communicator or via an internal magnetic reed switch.

Duct-mount and extractive sampling versions are available and an optional relay package will offer two programmable alarm relays and a general fault relay, with alarm thresholds programmed with the remote communicator.

Operating temperature range is -40°F to +167°F and ingress protection is to IP66, NEMA 4. EEx d, e and [ib] protection designs are offered, Class I Division I Class C and D and Class I Division 2 groups A, B, C and D. FM, CSA, CENELEC(ATEX), CE.

For further information & reader inquiries: Randy Durick at Detector Electronics 6901 West 110th Street, Minneapolis, Minnesota 55438. Tel 952 941-5665. Fax 952 829-8750
EMAIL: detronics@detronics.com WEB: www.detronics.com

Release issued by AGMAssociates, International PR - Alan Godfrey
265 High Street, Dorking, Surrey RH4 IRL, UK.
Tel +44 (0)1306 883666. Fax +44 (0)1306 884666. agmuk@btconnect.com
Also Larry Spieler, 1439 Kupau Street, Kailua, Hawaii 96734, USA
Tel: 808 263 3080 Fax: 808 263 3070

More from Mechanical Power Transmission