Gas Chromatograph features 10 in. color touch display.
Press Release Summary: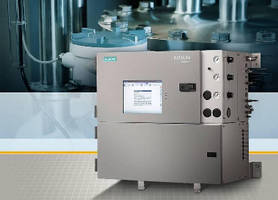 For expanded applications, Maxum Edition II Gas Chromatograph is available with small modular oven with space for analysis module as well as larger version designed for combi-module or 2 small modules. Graphical interface, providing intuitive menu navigation, enables user to enter data in large pop-up dialog boxes, and all frequently used functions can be reached directly by additional navigation points. Touchscreen is certified for use in hazardous areas according to CSA Div. I and ATEX Zone 1.
---
Original Press Release:

Gas Chromatograph with New Operator Panel and Additional Oven Version



Updates expand applications for the Maxum Edition II gas chromatograph

New operator panel with 10-inch color touch display

New modular oven with small oven chambers and quick-swap analysis modules



The Siemens Industry Automation Division is offering a new modular oven and a new operator panel with a color display for its Maxum Edition II gas chromatographs. Siemens is offering a small modular oven with space for an analysis module as well as a larger version designed for a combi-module or two small modules. This modular approach increases the average availability of the gas chromatograph, while at the same time reducing maintenance overhead and operating costs. The new operator panel has a large 10-inch color touch display, which makes it much easier to use the analyzer. It is backward compatible and can also be retrofitted to older systems.



The new graphical interface provides significantly improved and intuitive menu navigation. This makes it simple and transparent to operate the Maxum Edition II, especially with regard to routine tasks. For example, users can enter data more easily in large pop-up dialog boxes, and all frequently used functions can be reached directly by additional navigation points. Chromatograms are easy to edit using the touch screen. The new operating structure is based on the familiar menus of the previous black and white displays, so personnel trained on the Maxum Edition II can convert easily. As previously, the user can still also operate all analyzers connected within the network with no restrictions using the new operator panel. The touch screen is also certified for use in hazardous areas according to CSA Div. I and ATEX Zone 1.



With its 'modular ovens' option, Siemens is presenting a second essential significant innovation for its gas chromatographs. This expands the previous oven configura-tions for analyzing gaseous samples with versions for exchangeable analysis mod-ules. The design allows the new analysis modules to be quickly and easily replaced simply by releasing a screw, so that maintenance only takes a few minutes and modules are soon ready for use again. For users, this increases the average availa-bility of the chromatograph for making measurements and, in turn, that of the entire system, while at the same time reducing maintenance costs. Another benefit is low-er operating costs as a result of the high energy efficiency of the analyzer and low media consumption.



The smallest modular oven unit comprises a small, isothermal oven which is large enough to house a chromatographic analysis module. Configurations with one larger oven chamber for two separate modules or one double module are also possible. Both oven space types can also be combined in a single device. If required, mainte-nance personnel can service and repair the analysis modules on site themselves. Alternatively, Siemens can handle the entire service and maintenance work for the modules. The company also offers preset back-up modules for specific applications. The new design of the Maxum Edition II is fully compatible with existing Maxum networks, maintenance stations and plant control systems. Typical areas of use in-clude natural gas applications as well as petrochemical processes involving the pro-duction of ethylene or olefins.



Contact for journalists:

Siemens AG, Media Relations

Peter Jefimiec, Tel.:+49 911 895 7975

E-mail: peter.jefimiec@siemens.com



Further information on Maxum Edition II can be found at www.siemens.com/maxum

Follow us on Twitter at: www.twitter.com/siemens_press



The Siemens Industry Sector (Erlangen, Germany) is the world's leading supplier of innovative and environmen-tally friendly products and solutions for industrial customers. With end-to-end automation technology and industrial software, solid vertical-market expertise, and technology-based services, the Sector enhances its customers' productivity, efficiency, and flexibility. With a global workforce of more than 100,000 employees, the Industry Sector comprises the Divisions Industry Automation, Drive Technologies and Customer Services as well as the Business Unit Metals Technologies. For more information, visit http://www.siemens.com/industry



The Siemens Industry Automation Division (Nuremberg, Germany) supports the entire value chain of its industri-al customers - from product design to production and services - with an unmatched combination of automation technology, industrial control technology, and industrial software. With its software solutions, the Division can short-en the time-to-market of new products by up to 50 percent. Industry Automation comprises five Business Units: Industrial Automation Systems, Control Components and Systems Engineering, Sensors and Communications, Siemens PLM Software, and Water Technologies. For more information, visit http://www.siemens.com/industryautomation



More from Architectural & Civil Engineering Products