Gas Chromatograph detects sulfur and VOC in natural gas.
Press Release Summary: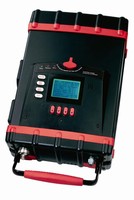 Voyager Portable Gas Chromatograph offers on-site capability for measuring critical sulfur species to establish sulfur and VOC content in natural gas, thereby allowing production companies to determine corrective measures for scrubbing and removal of contamination. Datalogging capability enables readings to be stored in instrument and downloaded to computer for analysis and recordkeeping. Voyager is intrinsically safe for operations in hazardous environments.
---
Original Press Release:

Photovac Introduces the Voyager Gas Chromatograph for the Detection of Sulfur Species and VOC's in Natural Gas Production



WALTHAM, MA, October 14, 2008 - Photovac, Inc., the manufacturer of premium instruments for volatile organic compound analysis in air, soil, and groundwater, is pleased to introduce the Voyager for the detection of sulfur species and VOC's in Natural Gas Production.

Natural gas companies often have the difficult task of separating and scrubbing the raw oil/gas field product to ensure low sulfur content, and remove extraneous volatile organic compounds (VOCs) before the gas is sent for transport. Natural gas with low sulfur and low VOC content is more commercially desirable as the BTU content is boosted and the gas burns more cleanly. The Voyager portable gas chromatograph from Photovac now offers on-site capability for measuring critical sulfur species to establish the sulfur and VOC content in natural gas, thereby allowing production companies to quickly determine corrective measures for the scrubbing and removal of contamination. Further, the Voyager provides datalogging capability so readings can be stored in the instrument and downloaded to a computer for subsequent analysis and recordkeeping purposes. The Voyager is intrinsically safe for operations in hazardous environments.

About Photovac, Inc.

Photovac is the premier provider of hand-held instruments for superior detection, measurement, analysis, and monitoring of volatile organic compounds (VOCs) in air, soil, or groundwater. Every Photovac instrument is designed to be portable and rugged to perform flawlessly on site under the toughest field conditions. With over 25 years of experience in the technology of photoionization detectors, gas chromatographs, and flame ionization detectors, Photovac has provided hundreds of applications to meet VOC analysis requirements.

For more information and to view the complete line of instruments, please visit the website at photovac.com

For more information, please contact:

Lon Loken

Vice President, Sales & Marketing

Photovac, Inc.

Phone: 781-693-3204

Fax: 781-290-4884

Email: lloken@photovac.com

More from Electrical Equipment & Systems