Gas Catalytic IR Oven cures powder on electrical components.
Press Release Summary: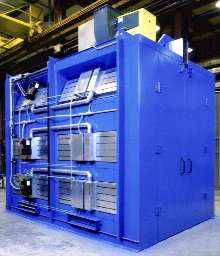 Rated for 200-600°F, indexing batch oven employs 12 SunCat(TM) Gas Catalytic Medium-Wave burners, each rated at 88,000 BTUH. Able to operate at temperatures to 1,700°F, IR heaters have combustion blower that feeds oxygen to face of heater and acts as source for convective air. Oven features 14 ft x 6 ft x 10 ft 6 in. work chamber, 4 in. thick tongue and groove panel construction, modulating exhaust damper, and multiple zones with selective operation.
---
Original Press Release:

Gas Catalytic IR Oven Cures Powder on Electrical Components


Wisconsin Infrared Systems designed and manufactured an indexing batch oven to cure powder on substations and enclosures for a major manufacturer of power distribution equipment for the electrical industry.

This powder curing oven, rated for 200-600° F, has a work chamber size of 6' wide x 14' long x 10'6" high and is constructed using 4" thick tongue and groove panel construction. Multiple zones are used to provide optimum heat energy to the different areas of the parts, as well as flexibility to allow zones to be turned off when curing smaller parts. There are twelve (12) SunCat(TM) Gas Catalytic Medium-Wave burners, each rated at 88,000 BTUH. These infrared heaters use the latest technology in catalysts, and can operate at temperatures to 1,700 °F. The catalytic burners have a combustion blower, which not only feeds oxygen to the face of the heater, but also acts as a source for convective air. Unlike most IR ovens which require the target area to be in "line of sight", this added airflow provides convection type heating to transfer energy and heat to these "unseen" areas. The gas train features a hi/low bypass to save on fuel consumption.

There is a modulating exhaust damper provided for additional chamber temperature control and to dilute the products of combustion and powder constituents from the oven chamber during operation.

This IR oven includes a slotted roof design to allow the customer to install an overhead trolley rail outside the oven, with just the hook and part inside the heated chamber. The overhead trolley conveyor provides the customer with a solution for handling their large products. There are doors located on each end, to allow a flow through operation. Wisconsin Infrared Systems also provided the necessary structural members to support the rail and associated components throughout the oven enclosure.

For further details, contact Wisconsin Infrared Systems at (262)642-4200, or by email at infrared@wisoven.com.

More from Fluid & Gas Flow Equipment