Gas Analyzer measures up to 5 gas components.
Press Release Summary: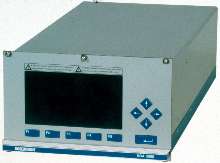 MLT Multi-Component Gas Analyzer has built-in FOUNDATION(TM) fieldbus communications technology, which enables personnel to view process and all gas components remotely. Diagnostics and alerts are displayed in real-time along with recommended actions. Analyzer uses non-dispersive infrared, ultraviolet, and visible spectroscopy; electrochemical or paramagnetic oxygen sensors; and thermal conductivity sensors to measure gas components.
---
Original Press Release:

To Further Plant Efficiency, Emerson Adds FOUNDATION(TM) Fieldbus Funtionality to Rosemount Analytical MLT Multi-Component Gas Analyzer


New analyzer functionality increments the remote monitoring of diagnostics and alerts with PlantWeb® digital plant architecture

ORRVILLE, OH (January 22, 2004) - Emerson Process Management has augmented the accurate, continuous measurement of its new Rosemount Analytical MLT Multi-Component Gas Analyzer with built-in FOUNDATION(TM) fieldbus communications technology. A component of PlantWeb® digital plant architecture, this enhancement of the analyzer further powers Emerson's PlantWeb to deliver predictive information to operators and maintenance personnel; they can view the process and all of the gas components remotely from an office or any other system workstation. Diagnostics and alerts are displayed in real time along with recommended actions, improving the efficiency of the staff and reducing down time.

The MLT analyzer is easily integrated into existing and new analyzing systems with its onboard FOUNDATION fieldbus technology. Capable of measuring up to five gas components in a single analyzer, the robust MLT helps control processes in a variety of industries, including petrochemical, flue gas, metals, ceramics, environmental and automotive. The analyzers are designed to continuously measure a wide range of gas components from parts per million (ppm) levels up to mole percent levels in a variety of packaging options to best meet installation needs.

The MLT uses a combination of non-dispersive infrared (NDIR), ultraviolet (UV) and visible (VIS) spectroscopy, electrochemical or paramagnetic oxygen sensors and thermal conductivity (TC) sensors to measure hundreds of gas components (including carbon monoxide, carbon dioxide, sulfur dioxide, nitric oxide/nitrogen dioxide, oxygen, phosgene, water, hydrocarbons, acetone, acrolein, hydrogen and chlorine). In addition, the unit monitors temperature and pressure measurements related to the gas. This NDIR-based measurement cell utilizes a unique "proof-peak" calibration technique to continuously compensate for the normal mechanical variations that take place in use and special circuitry for correcting barometric pressure swings that could otherwise skew data.

Interconnecting measurement and control equipment, such as analyzers, sensors, actuators and controllers, the PlantWeb architecture with FOUNDATION fieldbus communications technology serves as a Local Area Network (LAN) for instruments used in process control and manufacturing automation applications, and distributes control applications across the network. The technology provides remote monitoring capabilities, true device interoperability, enhanced field-level control and reduced installation costs.

The MLT is available as a stand-alone analyzer, as a "system control analyzer" or analyzer module and offers:

o Multiple measurement benches in one unit
o Central interface for multiple analyzer modules
o Variety of housing designs
o Field-mounting capabilities
o WinControl communication and remote control

Specific markets and applications for the MLT include:
o Power and stack gas monitoring: capable of measuring the wide range of stack gas continuous emissions monitoring systems (CEMS) applications as well as detecting hydrogen in generator cooling systems.
o Petrochemical plants: measuring oxygen, hydrogen and hydrocarbons in various petrochemical gas streams.
o Petroleum refineries: measuring hydrogen in hydrocarbons as well as oxygen and hydrocarbons in various other process streams.
o Cement plants: various measurements in kiln optimization as well as precalcinators, electrostatic precipitators and the traditional CEMS measurement of the stack gases.

About Emerson Process Management
Emerson Process Management (www.emersonprocess.com), an Emerson business, is a leader in helping businesses automate their production, processing and distribution in the chemical, oil and gas, refining, pulp and paper, power, food and beverage, pharmaceutical and other industries. A division of Emerson, Rosemount Analytical (emersonprocess.com/proanalytic) includes a gas division in Orrville, Ohio, that is a leading supplier of on-line gas analyzers and systems for process, environmental and laboratory analysis applications. The best-in-class technology and expertise of Rosemount Analytical play a key role in Emerson's combining of superior products and technology with industry-specific engineering, consulting, project management and maintenance services. Emerson brands include: PlantWeb®; Fisher®; Micro Motion®; Rosemount®; DeltaV(TM); Ovation®; and AMS(TM) Suite.

About Emerson
St. Louis-based Emerson (www.gotoemerson.com) is a global leader in bringing technology and engineering together to provide innovative solutions to customers in electronics and telecommunications; process control; industrial automation; heating, ventilating and air conditioning; and appliance and tools. Sales in fiscal 2003 were $14.0 billion.

PlantWeb, Fisher, Micro Motion, Rosemount, DeltaV, Ovation and AMS are marks of Emerson Process Management. FOUNDATION is a mark of the Fieldbus Foundation. All other marks are the property or their respective holders.

Related