Gas Analyzer measures hydrogen sulfide in gas streams.
Press Release Summary: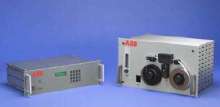 General-purpose Analyze IT PPA4230-GP utilizes lead acetate paper tape coupled to photocell for H
2
S measurement. Photocell is zeroed before each analysis cycle, and digital display reports H
2
S concentration in ppm, ppb, or mg/m³. Microprocessor-based analyzer includes self-diagnostics for troubleshooting. Fast response time enables corrective action when high levels are detected, resulting in catalyst and corrosion protection in gas plants.
---
Original Press Release:

ABB announces new Analyze IT PPA4230-GP:General Purpose Hydrogen Sulfide Gas Analyzer


Lewisburg, WV, October 17, 2003 -- ABB, the leading power and automation technology group, has developed the general purpose PPA4230-GP analyzer. The Analyze IT Hydrogen Sulfide Analyzer
provides the measurement of Hydrogen Sulfide in gas streams such as reformer recycle gas and ethylene/propylene plant providing refinery solutions. The PPA4230-GP utilizes lead acetate paper tape coupled to a photocell for the H2S measurement. The fast response time of the PPA4230-GP enables fast corrective action when high levels of H2S are detected which results in catalyst and corrosion protection in gas plants.

The following applications are typical process streams that are monitored with the Analyze IT PPA4230-GP Hydrogen Sulfide Analyzer:
o Hydrogen Recycle Gas
o Natural Gas Pipelines
o Fuel Gas
o Propane/Butane Mixtures

The Analyze IT PPA4230-GP provides the following features and benefits:
o Microprocessor ensures ease of use and reliable operation
o High Selectivity to Hydrogen Sulfide (H2S)
o Digital display with H2S concentration reported in PPM, PPB or mg/M3
o Wide dynamic range (ppb, ppm to % measurements with dilution system)
o Stable photocell that is zeroed before each analysis cycle
o Long tape life; tape is not advanced until spot is saturated
o Self-diagnostics aid in troubleshooting operations
o Analytical method supported by ASTM Method D4084-94

For more information please contact:
Marcia Zemanek
Communications Manager
Tel: 440-585-6830
email: chemical.info@us.abb.com

Sandra Farren
Analytical and Advanced Solutions
Tel: 304-647-1761
email: sandra.farren@us.abb.com

The PPA4230 remains available for use in Hazardous Areas.

ABB provides Analytical and Advanced Solutions worldwide with laboratory, at-line and on-line process analyzers systems. These integrated systems provide real-time analysis of chemical and physical properties for process monitoring and control applications.

ABB (www.abb.com) is a leader in power and automation technologies that enable utility and industry customers to improve performance while lowering environmental impact. The ABB Group of companies operates in around 100 countries and employs about 133,000 people.

For more information visit us at: www.abb.com/analytical or http://www.abb.com/petrochemical

More from Materials