GARVEY Products, Inc. Releases the Impressa 1910 Labeler Series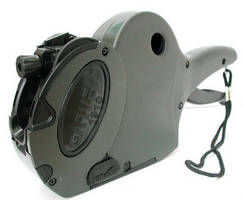 New Lightweight Design; Easy to Load and Use.

Cincinnati OH - Since 1919 GARVEY Products, Inc. has been a world leader in retail supplies, including labelers and labels for price marking and date coding; tagging supplies, point of sale items like Take a Number machines and displays; in addition, GARVEY Products is the second largest box cutter company in America supplying all types of businesses with there box cutter needs from industrial and janitorial to retail. Even though we have branched out into a wider product offering, GARVEY Products main focus and area of expertise are labelers; we offer the widest range of labelers available on the market today; not only does GARVEY offer a labeler for every need, but GARVEY labelers are the easiest to use with features like our drop in loading and easy, quick and clean inker change systems.

Keeping with our continuing tradition of innovation, Garvey Products proudly announces the release of the Impressa 1910 Labeler Series; a new lightweight labeler designed to make labeling fun and easy. The new GARVEY Impressa 1910 has special features that you have come to expect from GARVEY like drop in loading, easy, clean, and quick inker change along with an open access design. These features make the NEW GARVEY Impressa 1910 one of the lightest and easiest to use labelers on the market today. A new update to an old idea: GARVEY's new Impressa 1910 Series utilizes one of the most common and smallest labels available: 19mm X 10mm.

Please contact GARVEY Customer Service today at 800-543-1908 or visit us on the web at www.garveyproducts.com.

More from Sensors, Monitors & Transducers