Garment Printer prints images directly from PC or flash card.
Press Release Summary: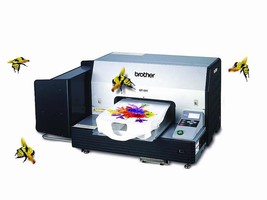 Featuring adjustable platen that holds garment in place for printing, Model GT-541 can print images in full color in 14 x 16 in. printable area. Water-based inks used can undergo repeated washings and are curable by standard heat press, eliminating need for conveyer dryer. Unit is suited for screen and quick printers, one hour photo shops, event planners, premium suppliers, and apparel printing small and medium enterprises.
---
Original Press Release:

Brother to Launch GT-541 'Print on Demand' Garment Printer at Sign & Graphic Imaging 2008



Digital garment printer offers faster, more efficient alternative to thermal transfer and screen-printing

February 14, 2008

Brother Gulf, a global leader in printing, communication and digital imaging products and a subsidiary of Brother Group, Japan, has announced that it will unveil its new GT-541 'Print on Demand' garment printer during the Sign and Graphic Imaging Middle East 2008 trade show, which will be held from February 17-19, 2008, at the Dubai World Trade Centre. The unique printer is faster and more efficient compared with traditional screen-printing methods.

The GT-541, which can print images from a PC or built-in compact flash card reader, features an adjustable platen, which holds the garment in place for printing. The printer can print images on most garments in full colour with a large 14-by-16 inch printable area, is very simple to operate, and consistently prints in high-resolution quality. Its durable water-based inks can undergo repeated washings and can be cured by a standard heat press, thus eliminating the need for a conveyer dryer. The GT-541 garment printer is ideal for screen and quick printers, one-hour photo shops, event planners, premium suppliers and apparel printing small and medium enterprises.

Shinji Tada, Managing Director, Brother Gulf, said, "We have created a revolutionary garment printer that will allow users to print directly from a PC or flash card, minus the setup intricacies and high costs of traditional screen printing machines. The entire printing and fusing process takes around a minute per garment; this pioneering product thus makes the printing of a few pieces of t-shirts per order economically viable. This is particularly good news for smaller printing shops, who can now accept specialized orders such as corporate gifts regardless of bulk size."

The 10th Sign and Graphic Imaging trade show will welcome over 300 participants from more than 30 countries, 35 per cent more than in 2007, indicating the vast opportunities available in the regional signage and outdoor industry. Sign and Graphic Imaging, the region's only specialised signage, graphic imaging and screen-printing trade show, is organised by International Expo Consults, a member of the Falak Holding group. The show will feature the latest in signage and graphic imaging technologies, from laser cutting and display equipment, to large format digital printing and thermal and dye sublimation equipment.

The Arab region is currently a prime area for signage and outdoor publicity, with the GCC alone spending over AED 7.35 billion for visibility. The UAE leads the region in advertising, with its market growing at a rate of 22 per cent annually; this has in turn raised the significance of events such as Sign and Graphic Imaging in exploring and discussing important industry issues. Brother Gulf aims to leverage the tremendous opportunities available at the event in partnership with Almoe, a distributor and long-time partner of the company in the region.

"This will be our first time to participate in the Sign and Graphic Imaging show, and with a revolutionary product to display at that. We look forward to collaborating with industry leaders, international traders and corporate representatives while taking advantage of this important platform for product dissemination. Brother Gulf considers this show a significant platform for the GT-541 launch, and will take full advantage of the opportunity to network, establish contacts, and mingle with the public," concluded Tada.

About Brother Gulf:
Brother Gulf is a subsidiary of Brother Group, Japan, one of the global leaders in the development and manufacturing of technologies in the printing, communication and digital imaging industries for homes, SOHOs and enterprises. The company's Middle East headquarters, with fully integrated sales, marketing and services capabilities, is located at the Jebel Ali Free Zone in Dubai. Brother Gulf has authorized distributors across the region, including in the GCC countries, Levant region, Iran, the Indian subcontinent, and East, West and Central Africa.

The core products of the company are Laser printers, Facsimile machines and Multi-Function Centers. Brother's product range also includes Labelling machines, Electronic Typewriters, Laminators, Stamp Creators, Home and Industrial Sewing machines and Industrial Embroidery machines.

More from Computer Hardware & Peripherals