Gardner Bender Announced as 2018 Top Products Award Winner from EP&S Magazine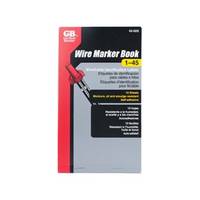 Menomonee Falls, Wis., Jan. 22, 2019 /PRNewswire/ -- Electrical Products and Solutions magazine announced in their most recent publication that Gardner Bender's® U-Phase wire markers were selected as a Top Product for 2018.
Gardner Bender's new U-Phase™ Wire Markers take simplicity and efficiency to a whole new level. Traditionally phasing or color coding wires involved wrapping the wires in colored tape, but now with the U-Phase™ you are able to simply slide the patented designed marker tip identifying and wiring circuits, marking computer cables and countless other applications making it an essential tool for any electrician.
Countless Benefits!
The U-phase is extremely light weight and easily fits in your pocket or tool belt. The marker's u-shaped design and valve activated tip allows it to glide over all wire with no hassle and dries almost instantly. With one marker you can mark up to 675' of wire up to 6 AWG! On top of that our paint is resistant to abrasions, moisture, dirt, oil, UV light, and also conforms to ASTM D4236.
Source Gardner Bender
More from Communication Systems & Equipment