Garage Heater suits high humidity and dusty areas.
Press Release Summary: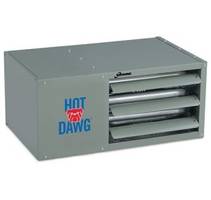 With BTU inputs of 30,000, 45,000, 60,000, and 75,000, Hot Dawg® Model HDS draws combustion air from outside, optimizing seasonal heating efficiency and minimizing concerns about dusty, dirty, or humid applications. Operating with natural gas or propane, unit features tubular heat-exchanger design and is certified for residential and commercial use. Applications include greenhouses, tool sheds, wet garages, and hostile environments.
---
Original Press Release:
Modine Debuts a New HVAC Product, a Hot Dawg(R) Heater for High Humidity & Dusty Areas, Providing More Durability with Less Maintenance
RACINE, Wis --Dec. 2, 2005--With cold weather and snow pounding the Midwest and winter officially beginning soon, Modine Manufacturing Company (NYSE:MOD), a world leader in heat transfer, is launching a new product from its Commercial HVAC&R Division, the Hot Dawg(R) separated combustion garage heater. The Hot Dawg Model HDS is an extension of the successful Hot Dawg garage heater product line that has sold more than 100,000 units in the last five years. This new design will offer improved efficiency, greater durability and less maintenance. "This is a much anticipated product because it gives users a choice that can withstand more humid environments, more dust and dirt, and has lower maintenance than our current best selling Hot Dawg garage heater," said Wayne Canfield, Modine's General Manager of Commercial HVAC&R. "Some of our customers told us they needed a unit heater that could pull air from the outside and work in the wettest of environments. So we've spent the last year perfecting our Hot Dawg heater technology to produce another option. This is a product we think will become the leader of the pack." The big difference in the new Hot Dawg separated combustion heater is that it draws its combustion air from the outside. This ensures the unit always has plenty of fresh, clean air to breathe, and will reduce concerns about dusty, dirty or humid applications. In addition, by drawing the combustion air from the outside, the overall seasonal heating efficiency is increased. This is especially useful for well insulated buildings where city ordinances or building codes require heaters to use outside air. It could also be used in greenhouses, tool sheds, wet garages, and hostile environments which have high humidity, and lots of dust and dirt, including commercial and industrial areas. The new HDS is based on the existing Hot Dawg heater platform, with BTU inputs of 30,000, 45,000, 60,000 and 75,000. As with the original Hot Dawg heater, the new HDS is certified for residential and commercial use and features Modine's field-proven tubular heat-exchanger design. Both the HD and the new HDS are designed for use with natural gas or propane with fast, easy installation. The products are easy to service and trouble-shoot, and are backed by a 10-year heat-exchanger warranty. The new Hot Dawg HDS heater can be ordered now by calling 1-800-700-7324 or through the Modine website at www.modine.com/hotdawg. Founded in 1916 and with projected fiscal 2006 revenues from continuing operations of approximately $1.6 billion, Modine specializes in thermal management systems and components, bringing highly engineered heating and cooling technology and solutions to diversified global markets. Modine products are used in light, medium and heavy-duty vehicles, HVAC (heating, ventilating, air conditioning) equipment, industrial equipment, refrigeration systems, fuel cells, and electronics. Based in Racine, Wisconsin, the Company has more than 8,200 employees at 35 facilities in 15 countries worldwide. For information about Modine, visit www.modine.com.
More from Architectural & Civil Engineering Products