Gap Filler offers high slump resistance.
Press Release Summary: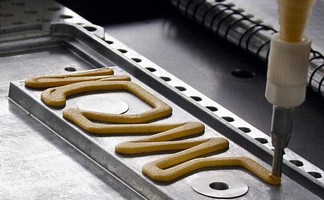 Two-component Gap Filler 1500 is silicone based liquid solution suitable for filling unique and intricate air voids and gaps in applications requiring thermally conductive vibration dampening. High shear thinning characteristics support optimized control during dispensing, which can be manual or automatic. Providing 1.8 W/m-K thermal performance, material is dry when cured. It is available in 50 cc and 400 cc cartridges as well as 1200 cc and 10 gal kits.
---
Original Press Release:

Bergquist Announces New Gap Filler 1500 (Two-Part): The Ultimate Slump-Resistant, Form-in-Place Thermal Interface Material, Offering Easy Dispensing and Excellent Thermal Performance



CHANHASSEN, MN - The Bergquist Company announces the release of its latest liquid gap filling solution, Gap Filler 1500 (Two-Part). Gap Filler 1500 is a silicone based, two-component, room or elevated temperature cured product. As dispensed, this material is ultra-conforming and is ideal for filling unique and intricate air voids and gaps. As cured, Gap Filler 1500 is a soft,thermally conductive, form-in-place elastomer that is dry to the touch and will not pump-out from the interface.

Gap Filler 1500 exhibits an excellent thermal performance (1.8W/m-K) and a high level of slump resistance. Gap Filler 1500 is specifically designed with high shear thinning characteristics to support optimized control during dispensing. Shear thinning is an
inherent characteristic that allows the material to readily flow when subjected to a load (i.e. during dispensing), but hold its shape once the load is removed. The dispensed material stays in place and holds its shape on the part until force is applied to displace the material and wet-out the interface. With its optimized flow characteristics, Gap Filler 1500 offers a faster throughput with less pressure
required from dispensing equipment. Reduced pressure lowers the risk of material and machinery breakdown. The two-part composition facilitates efficient dispensing and clean assembly with no cure by-products. Gap Filler 1500's easy dispensibility allows
for precise positioning in half the time as compared to one-part materials.

This material is ideal for thermally conductive vibration dampening in applications that include automotive electronics, computers and peripherals, telecommunications and placement between any heat-generating semiconductor and a heat sink. Gap Filler 1500
is suitable for manual or automated dispensing and can be screened or stenciled onto an application. Standard container size offerings are 50cc and 400cc cartridges and 1200cc and 10 gallon kits. Gap Filler 1500 is available with the option of 7 or 10 mil spacer beads and is customizable upon special request. For pricing information, please contact a Bergquist Sales representative.

The Bergquist Company designs and manufactures high performance thermal management materials used to dissipate heat and keep electronic components cool. Headquartered in Chanhassen, MN, Bergquist supplies the world with some of the best-known
brands in the business: Sil-Pad® thermally conductive interface materials, Gap Pad® electrically insulating gap fillers, Hi-Flow® phase change grease replacement materials, Liqui-Bond® liquid adhesives, Bond-Ply® thermally conductive adhesive tapes and Thermal Clad® insulated metal substrates.

Contact Information:
Becky Cater
Product Manager
(952) 835-2322
beckyc@bergquistcompany.com

More from Machinery & Machining Tools