GAO RFID Launches a New Range of 2.45 GHz Active Readers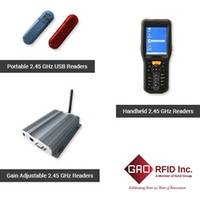 GAO RFID announces a complete range of state-of-the-art Active 2.45 GHz RFID Readers capable of identifying tagged items up to 100 meters away. Included in this family of readers is the 2.45GHz Gain Adjustable RFID Reader with Wi-Fi capabilities, the Handheld 2.45 GHz RFID Reader that also offers barcode capabilities, and the Portable 2.45 GHz USB RFID Reader. These can be used for a wide variety of applications that require identification and tracking of assets, inventories and monitoring.
The 2.45 GHz Gain Adjustable RFID Reader enables users to control the reader sensitivity by adjusting the antenna gain. This allows the reader to boast a very flexible tag identification range that can be as close as 3 m and up to a 100 m away. This ensures selective targeting of RFID tags by distance which, for the first time, allows users to meet the demands of every possible configuration using one type of RFID reader.
Additionally, GAO RFID unveiled the sturdy dust and waterproof handheld version built for on-site use that comes with a 3.2 inch touch screen and very economical power consumption. The device comes with a vast array of features and is equipped with a USB 2.0 port, Bluetooth, Wi-Fi and optional GPS capabilities. It makes use of an efficient Windows based operating system that runs the RFID data collection software and also has 1D and 2D barcode reading capabilities for applications which require both RFID and barcode technologies. Other optional add-ons enable the integration of high frequency or low frequency modules, which allows this product to be a dual frequency RFID reader. The device is well suited for applications involving logistics, supply chain and warehouse management.
This range of readers also includes the Portable 2.45 GHz USB RFID Reader which gives a read range of up to 20 m. Simply plugging this device into any USB-enabled computer allows the reading of RFID tags and the direct transfer of data to a host system in real-time.
"For over a year now, our customers have been asking us for readers in different form factors that will fit easily into their RFID environment. They said having the right type of reader in the right situation would save them both time and headaches. Our customers asked and GAO RFID delivered," said Dr. Frank Gao, GAO RFID's CEO.
GAO RFID Inc. is a global provider of leading RFID hardware, software and systems that improve operational efficiency, reduce costs, and heighten personnel safety. GAO offers a suite of systems enabled by advanced RFID readers and tags including Asset Tracking, Access Control, WIP Management, and Personnel Tracking. To learn more about GAO RFID, visit http://gaorfid.com/
More from Explosives, Armaments, and Weaponry