Gantry Router doubles as milling machine.
Press Release Summary: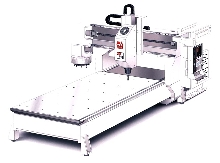 GR-510 offers travels of 120 x 60 x 10 in. (X,Y,Z) and 40-taper milling head. It includes 10,000 rpm spindle with 15 hp vector drive system. Automatic 10-pocket tool changer is standard. Machine's 5 x 10 ft fixed table provides support for large or heavy workpieces. CNC accepts ISO standard G-code and is compatible with major CAM systems. Built-in graphic dry-run mode allows operator to check tool paths on screen without cutting material.
---
Original Press Release:

Gantry Router Doubles as Powerful Milling Machine


Wood, plastic, fiberboard, acrylic - these are the materials most CNC routers are designed to cut. But the new GR-510 Gantry router from Haas Automation, Inc., isn't like most routers - it's more like a router on steroids.

The Haas GR-510 is a gantry-style router with travels of 120" x 60" x 10" (xyz) and a powerful 40-taper milling head. The machine comes standard with a 10,000-rpm spindle that features a powerful 15-hp vector drive system. This gives the GR-510 plenty of power to cut aluminum and other metals, as well as the speed necessary to cut wood, plastics and other light materials. A 10- pocket automatic tool changer is standard, and a coolant system is available as an option.

Featuring rigid steel construction, the GR-510 provides a very stable platform for heavy cutting. The machine's 5' x 10' fixed table provides plenty of support for large and/or heavy workpieces, and the gantry assembly travels the full length of the table on heavy-duty linear guides for low friction and extreme accuracy. Powerful brushless servo motors and high-pitch ballscrews combine to produce rapids up to 2,100 ipm for reduced cycle times.

For high-speed machining work, the GR-510 is available with optional 15,000-rpm or 30,000-rpm spindles, and Haas' exclusive HSM control option with full look-ahead allows high feedrates on complex geometries without distortion to the programmed path.

Driving the GR-510 is the powerful and user-friendly Haas control. Designed and built in-house, it is optimized specifically for Haas machines. The Haas CNC accepts ISO standard G-code and is compatible with all major CAM systems. A built-in graphic dry-run mode allows the operator to check tool paths on screen without actually cutting material, reducing the chances of scrapping parts. Optional features like Visual Quick Code programming, rotation & scaling and custom macros make generating G code simple for novice programmers and experts alike.

The GR-510 Gantry Router is an affordable solution for machining large aluminum plates and full-size sheets of material, yet it is fully capable of cutting complex patterns and three-dimensional surfaces, such as foundry patterns and wood carvings.

For a look at the GR-510, as well as 20 other Haas machines, visit the Haas booth (#3229) at WESTEC in March at the Los Angeles Convention Center.

More from Mechanical Power Transmission