Gantry Milling Machine incorporates linear motors.
Press Release Summary: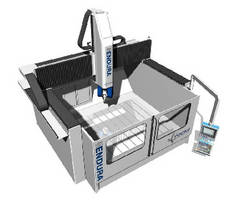 Featuring modular design, 5-axis ENDURA® 700Linear is suitable for machining 5 sides of parts made from plastic, composite materials, ureol, and aluminum, as well as for finishing cast and steel materials. Two-axis fork milling head with high frequency milling spindle is mounted on Z-axis lifting beam, which travels across gantry. Providing XYZ axis travels of 2,200 x 2,800 x 1,200 mm, machine offers feed rates of 5-65,000 mm/min in all axes with acceleration up to 3.5 m/sec².
---
Original Press Release:

BOHLE Machine Tools Introduces 5-axis Gantry Milling Machine



The ENDURA® 700Linear Gantry Milling Machine is the newest addition to a family of modular-designed 5-axis simultaneous, high-speed linear gantry milling machines by FOOKE GmbH in Borken, Germany. They are especially suitable for the efficient machining of five sides of parts made from plastic, composite materials (e.g. CFRP and GRP), ureol and aluminum, as well as for finishing cast and steel materials.

The ENDURA product line meets the need for extremely high-speed milling machines by aerospace, rail transportation, automotive industry and their subcontractors, as well as model-making, prototype construction, tool-making and mold-making.

These applications demand very tight positional control of milling tools in the work space. In response to these strict requirements, Fooke provided the first machine with VCS (volumetric compensation system) to the U.S. market. VCS is now available with either the Siemens or Heidenhain control.

The ENDURA® 900LINEAR product line offers axis travel in X-direction up to 20 m, in Y-direction up to 4 m and in Z-direction up to 2 m. Larger, custom machines can be designed for specific applications.

The ENDURA® 1000LINEAR product line offers axis travel in X-direction up to 120m and is frequently used in high-speed rail applications.

Incorporating linear motors into the highly rigid ENDURA machine structure has resulted in improvements to acceleration and axis travel speed, more than 3 times compared to conventionally driven machine tools.

The use of linear motors as feed drive units eliminates several typical mechanical wear elements, including gears, bearings, ballscrews and rack-and-pinion systems, thus increasing drive rigidity substantially. This is, next to the rigid machine structure, the main reason for the dramatically increased machine dynamics: acceleration values of 5 m/sec² on the path contour can be reached easily.

For even quicker performance in the ENDURA range, integration of linear motors into the rigid structures of machines can provide acceleration values of up to 10 m/sec².

The traveling overhead gantry, supported by U-form columns on the ENDURA 700 series, is the framework for the sophisticated, rigid milling machine. The side walls of the ENDURA 900 series, which are built in pylon-column design, consist of columns which are filled with special highly cushioning concrete. The machine bed is fully enclosed on all sides.

ENDURA 700LINEAR - Special Features:

Mounted on a Z-axis lifting beam, which travels across the gantry, is the 2-axis fork milling head with high frequency milling spindle. Users can select from two available milling heads, both using HSK63 tools, to provide the right combination of spindle power and speed for their applications: 20-45 kW and 18,000-30,000 rpm.
The powerful linear motors in all linear axes (X, Y and Z) are combined with direct measuring systems in all linear axes (X, Y, Z). Axis travels are X: 2200mm; Y: 2800mm; Z: 1200mm.

Feed rates in all three axes are 5-65,000 mm/min with acceleration up to 3.5 m/sec2
In a customer application, the FOOKE machine accomplished in 6 minutes what a CNC milling machine with conventional drive technology achieved in 11 minutes, reducing machining time by 45%, while exceeding the surface quality and accuracy of the conventionally machined part.

Additional features include automatic tool changers, wet machining capability, top cover, tool measuring systems, and part measuring systems.

About FOOKE

A family enterprise with an engineering tradition of over 100 years, Fooke GmbH (www.fooke.de) has designed, constructed and produced 5-axis gantry milling machines for more than 20 years.

Bohle Machine Tools, Inc. has been building machine tools and representing the finest European machine tool companies for more than 50 years, bringing to North America many of the world's most productive solutions to machining requirements that are beyond the ordinary.

Bohle is focused on proposing economical, precision solutions to special production requirements and offers a range of machine lines that represent innovative, reliable production technology, including

o Buderus CNC grinding and hard turning machines

o Burkhardt+Weber large horizontal milling centers

o Fooke ENDURA® 5-axis high-speed milling machines

o Niles CNC milling-turning-boring centers and more.

Bohle Machine Tools 44160 Plymouth Oaks Blvd., Plymouth MI 48170

Tel. 734-414-8220 Fax 734-414-8224

www.bmtbohle.com email: bmt@bmtbohle.com

More from Cleaning Products & Equipment